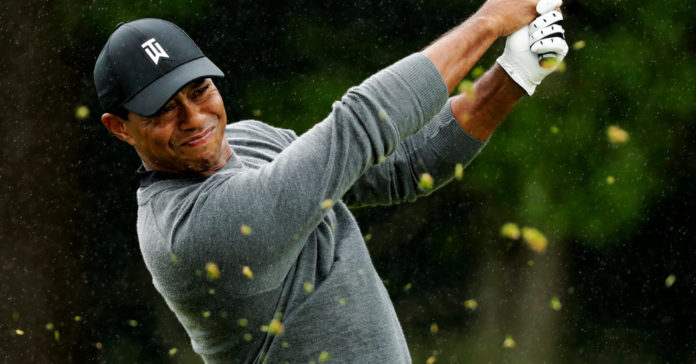 No. 17: Too Little, Too Late?
Desperate for a birdie (and a miracle) to make the cut, Woods had a nice little wedge shot from 120 yards out to give himself a good look for a three. And, hey, would you look at that! He finally made a putt from 10+ feet. It looks to be too little, too late, but at least it's a flash of what we used to see regularly from Mr. Woods.
No. 16: In Need of a Birdie, Woods Misses Again
Quite a moment at the par-3 seventh hole. But it wasn't delivered by Tiger Woods.
It was Dustin Johnson, who sneaked in a 45-footer for birdie to now go to four-under par for the tournament, three-under for the day. He has a three-stroke lead. The putt drew a large cheer from the crowd and even a smile from Johnson, who looks in full command of his game.
Woods found the center of the green and had about 30 feet for the birdie, but it missed. He cleaned up the par.
No. 15: Not Cutting It
On the sixth, Woods found the thick rough again. He had hit 8 of 11 fairways in the second round, but this was a miss to the right. He had to hack it out to get into the fairway and then came up short with his wedge. Misses the putt from 30 feet to drop another stroke. +12 now — 15 strokes behind Dustin Johnson, and likely four or five strokes off the cut line.
No. 14: Tiger Bungles Easy Hole
The rain has stopped, the sun has come out again and the wind has died down considerably.
After a nice drive on the par-5 fifth, Woods went with a three-wood from 285 and managed to roll it up just short of the green. But his pitch shot from there wasn't great; left him with an eight-foot putt for birdie and he missed it left.
Absolutely brutal.
A par on the easiest hole on the course is nothing less than a failure for Woods (+11) and his hopes of staying around for the weekend.
No. 13: Not Looking Good for the Weekend
Another makable birdie opportunity for Woods from less than 20 feet and he comes up short with the putter. Again. Nothing has fallen for Tiger this tournament, and that's why he's looking at a short stay in the Hamptons this week.
By comparison, Dustin Johnson is delivering on those looks. He just made a 15-foot birdie putt to pull ahead by two strokes at three-under par.
No. 12: Solid Par for Woods on Slow Green
On the third hole, Tiger Woods makes his first par on his second nine. Despite missing short again with his iron from 200 yards out, he managed a two-putt to avoid further damage. The wind has died down, although a slight rain continues to fall, making the greens much slower than yesterday.
Not that players are really able to take advantage; only six (including Dustin Johnson) are under par for the day.
No. 11: Tiger Still Struggling on Day 2
The par-3 second hole is playing as the third-most difficult hole on the course. And it was easy to see why on Friday: Both Justin Thomas and Tiger Woods failed to save par.
Woods's tee shot went short and fell into the bunker. He did a decent job with a long sand shot but missed the 11-foot putt to make par. Woods has bogeyed the second hole twice now in two days, and he's heading to No. 3, the hardest hole on the course today.
No. 10: A Better Bogey
Rain, cold, wind. Just like you'd expect for a British Open.
Wait, this is the U.S. Open?! Oh, well, nevermind.
Tiger Woods (+8) is starting his back nine on Hole No. 1. After a perfectly placed tee shot, Woods had perhaps his worst iron shot of the tournament thus far — and that's saying something. He missed way right from 164 yards.
He had been even for the round despite a bogey on the 18th. But now he's going to be in a real fight to make the cut.
His errant second shot plugged deep into a wet thicket of rough. He hacked out of it, but the ball rolled back down the backside of the green. His fourth shot chip shot flew past the hole. His 14-foot comebacker for bogey missed as well.
At least his double was an improvement from Thursday. He's now five-over par in two days … on the first hole alone.
U.S. Open Story Lines from Round 2
• Tiger Woods is off to a much better start today than yesterday, when he triple-bogeyed the first hole. Through nine holes, Woods has two birdies.
• Dustin Johnson has sole possession of first place at -3 after nine holes. He came into the day with a share of first, tied at -1 with three other players.
• A surprisingly rainy day has added a new challenge to what has already proven to be a challenging course for the field of 156. Only four players finished the first round under par.


Source : NYtimes