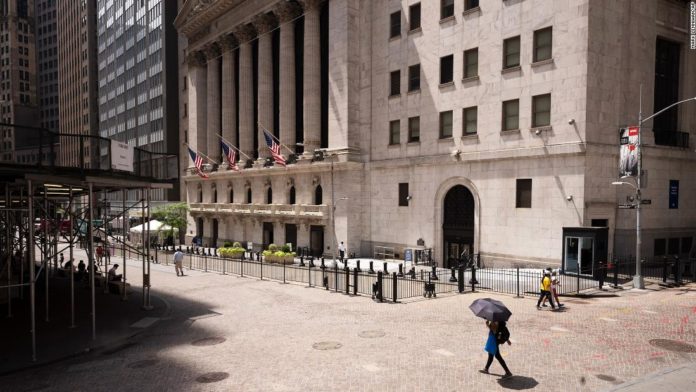 The Wall Street euphoria suggests that this could be another bubble or market mania. They don't tend to end well. So is this rally running on fumes?
There are growing concerns about the fact that stocks have continued to head higher even as the global economy remains mired in recession.
"The US labor market continues to show signs of stabilizing, but referring to it as 'healing' is a bit of a stretch," said Samuel Rines, chief economist with Avalon Investment and Advisory, in a report.
"The economic consequences of this level of unemployment has not been fully felt by the economy due to the significant transfer payments from the government," Rines added. "As the 'surge' payments expire, the US economy will begin to feel the pain more acutely."
It's also worth noting that earnings — to be blunt — have been terrible.
Profits for the companies in the S&P 500 plunged nearly 34% in the second quarter, according to FactSet analyst Marc Evans. That was the worst drop in five years. And sales fell almost 9%, the biggest decline in nearly four years.
Evans also noted that earnings for the S&P 500 are now expected to fall nearly 19% this year, compared to an anticipated drop of just 1.2% back in March.
Add all this up and you have a market that appears to be overheated, according to Stifel head of institutional equity strategy Barry Bannister. He wrote in a recent report that the S&P 500 may be as much as 10% overvalued right now.
Bannister worries that investors are underestimating the risk of another surge in coronavirus cases leading to more damage to the job market and earnings growth later this year. He also believes 2021 earnings estimates are too high and will need to be revised downward.
"Valuations for the S&P 500 have been keeping us up at night," warned RBC Capital Markets head of US equity strategy Lori Calvasina in a report, adding that the recent run for tech stocks is reminiscent of the dot-com bubble in the Nasdaq 20 years ago.
All eyes on Chinese consumers
Analysts are forecasting a nearly 30% increase in sales for JD from a year ago while revenue is expected to surge almost 50% at Alibaba.
Up next
Monday: JD.com earnings
Thursday: Alibaba earnings; weekly US jobless claims


Source : CNN