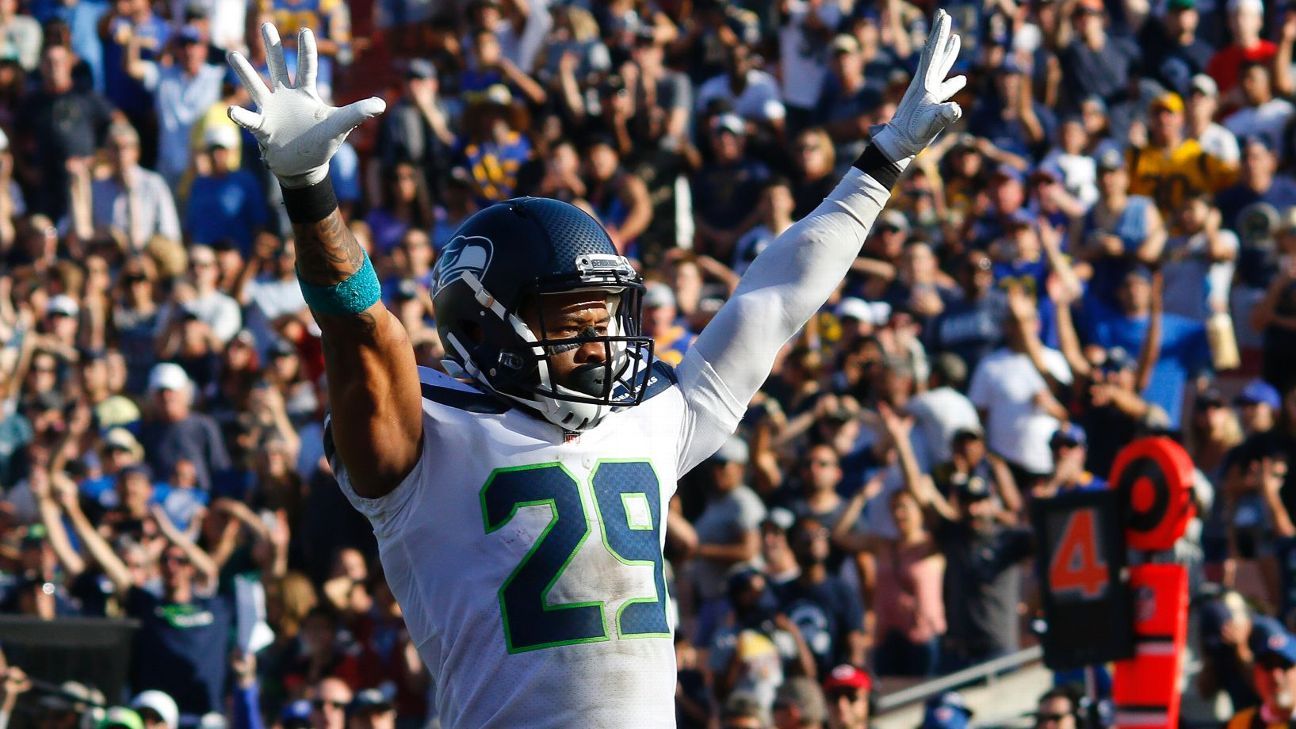 The Seattle Seahawks aren't scheduled to make a pick in next week's NFL draft until No. 18 overall, but in a way they might already be on the clock.
If they're going to trade All-Pro free safety Earl Thomas — a legitimate possibility by all indications — then the logical deadline would be before the end of the second round, if not the first.
The Seahawks are without a second- or third-round pick this year. It's not an ideal situation for any team, but especially not for one that needs an infusion of young talent more than ever after parting with a handful of its top players this offseason — Richard Sherman, Michael Bennett and Jimmy Graham, to name a few.
Thomas, a six-time Pro Bowl selection and arguably the NFL's best safety, is a big-enough asset to bring back early-round draft capital. But given what they're missing, whatever picks the Seahawks could get for him in a trade would be much more useful in this year's draft than next year's.
It's why Thomas' uncertain future in Seattle should become a bit more clear by the end of next week.
In the meantime, here's a closer look at his situation and what could happen next:
Where things currently stand
Thomas has been absent from the start of the Seahawks' voluntary offseason workout program, which is not surprising. He mentioned to ESPN in January the possibility of holding out if he doesn't get a new deal from Seattle. He's entering the final season of a four-year, $40 million contract, and Seahawks general manager John Schneider told reporters at the NFL owners meetings last month that the two sides weren't currently discussing a new deal. Even if they were, Thomas may opt to stay away until there's a resolution.
What Thomas may want
He hasn't said anything specific about what he's looking for, but it's a safe assumption that it's something in the neighborhood of $13 million a season. That's what Eric Berry makes as the NFL's highest-paid safety. Recall that Thomas mentioned Berry's six-year, $78 million deal last June in response to a question about when he put to rest thoughts of retirement that he had entertained after breaking his leg in December 2016.
Thomas could reasonably argue he's worth that much. He's a better player than teammate Kam Chancellor, whom Seattle signed to an extension last summer that averages $12 million a season. Thomas has one more Pro Bowl on his résumé than does Berry (six to five) and the same number of first-team All-Pro selections (three).
Why wouldn't the Seahawks pay him?
It's not out of the question. They arguably should given how important he's proven to be to their defense. That was never more evident than when Thomas was sidelined late in the 2016 season. Seattle's pass defense fell apart without him, allowing a 100.3 passer rating and 12 touchdown passes to only one interception, compared with a 77.8 rating and seven TDs to 10 picks with him on the field.
On the flip side, there's risk in sinking big money into third contracts for players who are approaching or are over 30. The Seahawks just got two painful reminders of that. They extended Bennett late in the 2016 season and Chancellor last summer. Each had a season left on his contract. Bennett was banged up last season and is now gone, and Chancellor's neck injury may end his career. That means the Seahawks paid each of them a bunch of money and may not see either player reach the first season of his extension. Those are extreme examples, but they're no doubt fresh on the Seahawks' minds when it comes to a possible extension for Thomas.
Thomas turns 29 in May. Calling him beat up would be an overstatement, but at the same time he hasn't been the indestructible iron man he was at the start of his career when he didn't miss a game for his first six and a half seasons. He's missed seven starts since, including two this past season because of a hamstring injury. He was also frequently listed on Seattle's injury report last season because of knee and Achilles issues.
Could Seattle just let him play out his final year?
In theory, yes — and they could also control his rights for 2019 by applying the franchise tag if they don't extend him. But that's much trickier in practice.
Thomas has always been a difficult person to read, but there's reason to believe he would indeed hold out without a new deal. Consider what he's been making relative to some teammates and other NFL safeties. While Thomas was the league's highest-paid safety when he signed his deal, he still got $4 million less per year than what Seattle gave Sherman that same offseason. Since then, Thomas has been surpassed by five other safeties — including Chancellor — in terms of annual average.
So if Thomas has felt underpaid for a few seasons, it's entirely conceivable he could be obstinate enough to follow through on his threat to hold out.
If Thomas holds out, then what?
It's hard to say how the Seahawks would handle that, but the current regime has set something of a precedent with holdouts. There have been two under Schneider and coach Pete Carroll.
Marshawn Lynch missed the first week of training camp in 2014 and returned with a reworked deal. The team increased his base salary for that season by $1.5 million by moving money around his contract, but he didn't get any additional money or a new contract.
The Seahawks didn't make any known adjustments to Chancellor's contract when he held out through the first two games of the 2015 season.
One difference between those situations and that of Thomas is that Lynch (two) and Chancellor (three) each had more than a season left on their deals when they held out. Schneider said after the fact that the team refused to give Lynch a new deal at the time because it could have led to players unreasonably expecting similar treatment no matter how far along they were in their contracts.
So what would Seattle want in a trade?
The better question may be: What could the Seahawks realistically get?
It's one thing to want a first- and a third-round pick, which has been reported as Seattle's asking price for Thomas. It's another thing entirely for a team to be willing to give up that much draft capital knowing it will then have to give Thomas a massive extension (actually, any team that trades for Thomas would almost certainly have a new deal in place first).
Remember, when the Seahawks openly shopped Sherman last offseason, they reportedly wanted a first-round pick plus another mid-round selection. Sherman had two seasons left on his contract at the time and also plays a more premium position than safety, two realities that should have made him more tradeable then than Thomas is now. That no team was willing to meet that asking price for Sherman makes it hard to imagine any team giving up a first and a third for Thomas.
So maybe Seattle lowers the asking price to a second-round pick plus something else, like a young defensive back.
You might be wondering how Seattle may be unable to get a first-round pick for Thomas when wide receiver Brandin Cooks, a less-accomplished player, was traded for a first in consecutive years. Consider this: Cooks is four years younger, and receivers — especially this offseason — are more valued than safeties.
Why Dallas seems like the most logical trade partner
For starters, the Cowboys are the only team reported to have discussed a potential trade for Thomas with Seattle. That seems like even more of a possibility in light of Dallas cutting receiver Dez Bryant, a move that saved the exact amount of 2018 cap space — $8.5 million — that Thomas would count toward a new team's cap if traded (though again, the new team would likely given him an extension that would alter his 2018 cap number).
Thomas also wants to play for the Cowboys. He grew up rooting for them in Orange, Texas, and memorably urged Cowboys coach Jason Garrett after a game last December to "come get me" if he were to become available.
Here's why that could matter: If Thomas wants to be a Cowboy badly enough, might he give them a slight discount on an extension? If so, that could make a trade between Seattle and Dallas that much easier.


Source : ESPN