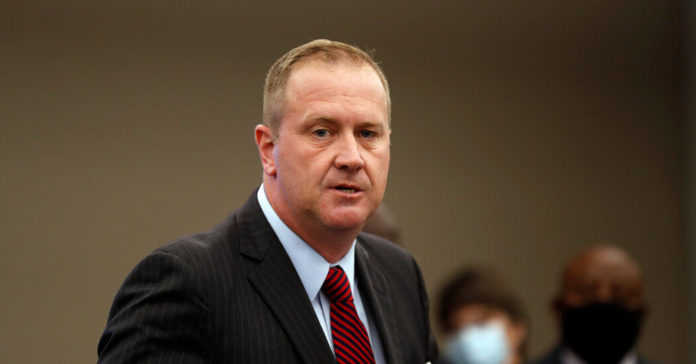 The attorneys general in 11 states filed a lawsuit on Friday in an effort to prevent the Biden administration from requiring large companies to mandate coronavirus vaccinations, the latest sign of growing pushback against the federal government's biggest effort yet to enlist private businesses in combating the virus.
"This mandate is unconstitutional, unlawful, and unwise," the court filing says. Attorney General Eric Schmitt of Missouri led the group that brought the lawsuit, which was joined by private and nonprofit groups.
The Biden administration on Thursday set Jan. 4 as the deadline for large companies to mandate coronavirus vaccinations or start weekly testing of their workers.
The new rule, applying to companies with 100 or more employees, is expected to cover 84 million workers, roughly 31 million of whom are unvaccinated.
Also on Friday, Gov. Kay Ivey of Alabama signed into law employment protections for workers who claim a religious or health reason for not getting vaccinated against Covid-19. In addition, she signed a law that requires parental consent for vaccinating minors against the coronavirus.
The lawsuit on Friday was filed in U.S. Court of Appeals for the Eighth Circuit by Missouri and was joined by Alaska, Arizona, Arkansas, Montana, Nebraska, New Hampshire, North Dakota, South Dakota and Wyoming. The office of Iowa Attorney General Tom Miller, a Democrat, also joined in the lawsuit.
The lawsuit came a day after the attorneys general of Kentucky, Tennessee and Ohio sued to stop the vaccine mandate for federal contractors from going into effect.
The requirement on large private businesses is the most far-reaching and politically controversial measure in the government's efforts to fight the pandemic. Attorneys general in at least 24 states have threatened to sue. Republican governors and some industry trade groups have come out against the requirement, and the 20 percent of U.S. adults who remain unvaccinated may oppose the mandate as well.


Source : Nytimes