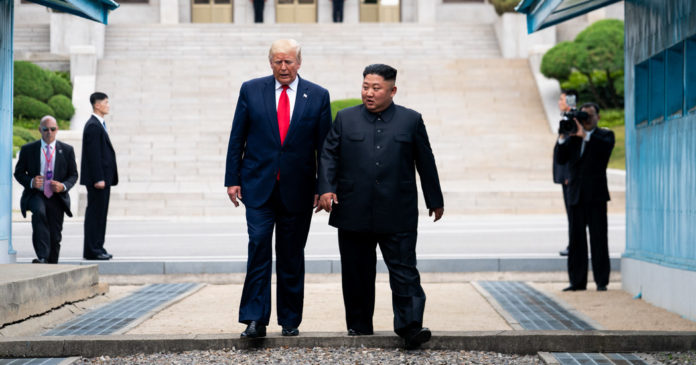 Viewers caught sight of men holding a thick yellow rope, which apparently was used to corral journalists at the site. (It was not quite the velvet rope the White House Press Office put up in front of the press corps in 2017, when Sean Spicer was press secretary.)
Then there were the blue huts. The 2.5-mile-wide Demilitarized Zone that has separated North and South Korea for decades is jointly overseen by the American-led United Nations Command and North Korea. The squat huts, which straddle the demarcation line, are painted powder blue in the color of the United Nations.
Camera lenses offered close-up views of the barriers and markers in the "truce village" of Panmunjom — 32 miles north of Seoul and 91 miles south of Pyongyang, North Korea's capital — where officials signed an armistice in 1953 to halt the three-year Korean War.
The area is lined with mines and barbed-wire fences, though those were not as visible on Sunday. Combat-ready soldiers train deadly weapons at the other side. But on Sunday, it appeared to be overrun by journalists. As cameras homed in on the low concrete barrier that Mr. Trump crossed to enter into North Korea on Sunday, it hardly seemed daunting. But visitors have dared not cross the slab, for fear of being shot.
In 2017, a North Korean soldier defected to South Korea through the heavily guarded zone separating the two countries, leading to gunfire on both sides of the border. Closed-circuit television footage showed the soldier's dramatic dash through the Joint Security Area north of Seoul, the South Korean capital, on Nov. 13.
The most notorious incident at Panmunjom happened in 1976, according to The Associated Press, when ax-wielding North Korean soldiers killed two American officers sent out to trim a tree that had been blocking the view from a checkpoint. Washington sent nuclear-capable bombers toward the DMZ in response. Animosities eased after Kim Il-sung, the grandfather of Kim Jong-un, expressed regret for the episode.
The world will be watching to see what comes next.
The two leaders greeted each other like old friends on Sunday, with a beaming Mr. Kim, 35, praising Mr. Trump, 73, and with the American president offering effusive praise of the man many experts have called a brutal, mercurial dictator who has killed members of his own family.


Source : Nytimes