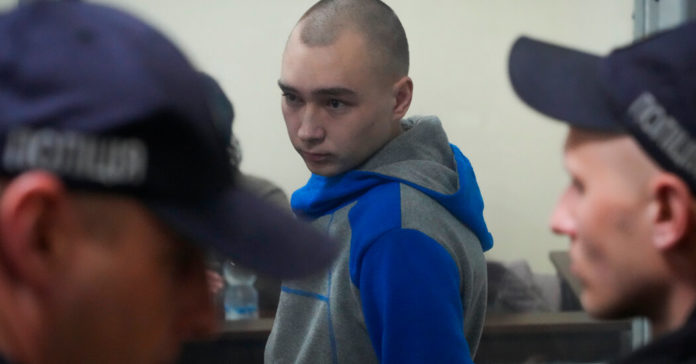 A Russian soldier pleaded guilty in a Kyiv court on Wednesday to having fatally shot a civilian, in the first trial Ukraine has conducted for an act that could be considered a war crime since Russia launched its full-scale invasion.
The soldier, Sgt. Vadim Shyshimarin, pleaded guilty to shooting a 62-year-old man on a bicycle in the village of Chupakhivka in the Sumy region, about 200 miles east of Kyiv, four days after Russia's full-scale invasion began on Feb. 24. He faces 10 years to life in prison.
Asked by the presiding judge whether he accepted his guilt, Sergeant Shyshimarin, 21, said, "Yes."
"Fully?" the judge asked. "Yes," the sergeant replied.
The sergeant had admitted to Ukrainian investigators that he had pulled trigger of the Kalashnikov rifle that killed the man, Oleksandar Shelipov, prosecutors said. He told investigators in a videotaped statement that he and four other servicemen had stolen a car at gunpoint and were fleeing from Ukrainian forces when they spotted Mr. Shelipov on a bicycle, talking on a phone. He said he was ordered to kill the man so he would not report them.
"I was ordered to shoot, I fired an automatic burst at him, he fell. We drove on," Sergeant Shyshimarin told the Ukrainian Intelligence Services.
The sergeant had been charged under a Ukrainian statute with violating "the laws and customs of war, combined with premeditated murder," Ukrainian prosecutors said. He had not been charged with a war crime under international law.
The trial had drawn widespread interest, and even though Sergeant Shyshimarin entered a guilty plea, prosecutors plan to present all the evidence against him on Thursday.
On Wednesday, the courtroom and an overflow room were crowded with members of the local and international news media, and the proceedings were being broadcast on YouTube. Kateryna Shelipova, the widow of the man who was fatally shot, was also in court on Wednesday.
The prosecutor, Andriy Sinyuk, described the hearing as an "unprecedented procedure" in which "a serviceman of a different country is accused of murdering a civilian of Ukraine."
In Moscow, the Kremlin spokesman, Dmitri S. Peskov, dismissed the proceedings on Wednesday, telling reporters that the accusations leveled against Russian soldiers by Ukraine were "simply fake or staged."
"We still have no information," Mr. Peskov said. "And the ability to provide assistance due to the lack of our diplomatic mission there is also very limited."
Russia-Ukraine War: Key Developments
---
Sergeant Shyshimarin's lawyer said that no one from the Russian government had contacted him about his client, though he said he had been in touch with the defendant's mother.
The trial was part of Ukraine's extensive effort to document atrocities and identify their perpetrators. A number of international initiatives hold both sides accountable for war crimes are going forward.
Karim Khan, the prosecutor of the Hague-based International Criminal Court, said on Tuesday that he was sending the court's "largest ever" team of experts to Ukraine to investigate allegations of war crimes. And the United Nations Humans Rights Council voted last week to deepen its investigation into rights abuses in the region around Kyiv and other areas.
Sergeant Shyshimarin's guilty plea took place as Ukraine sought to free its soldiers who were have surrendered the Azovstal steel plant in Mariupol in recent days. The Russian Defense Ministry said it had almost 1,000 fighters, more than 50 of whom were "seriously injured," in custody.
Ukraine hopes to trade the soldiers for Russian prisoners of war. Neither Moscow nor Kyiv has released details about a potential prisoner exchange, but any prisoner transfer could complicate the efforts of Ukrainian prosecutors to hold Russians suspected of war crimes accountable.
Complicating matters further, the Russian authorities have said in recent days they would interrogate some of the Ukrainian prisoners from the Azovstal plant about alleged war crimes, raising the possibility Moscow may also put soldiers on trial.


Source : Nytimes