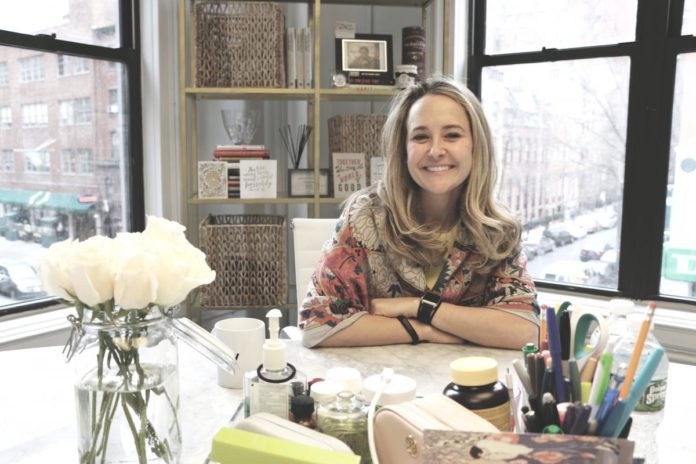 NEW YORK (Reuters) – When you are known for starting a personal finance company, people expect you to have your own financial house in order. But that was not always the case for Alexa von Tobel, founder of LearnVest.com.
Alexa von Tobel, CFP, founder and CEO of LearnVest.com poses in New York, U.S., in this photo provided July 30, 2018. LearnVest/Handout via REUTERS
After graduating from Harvard, von Tobel felt unprepared for the money aspect of adult life. In 2007, she started a company to help young people understand spending and saving options.
Now 34, von Tobel has traded in the entrepreneurial life to be a corporate officer at Northwestern Mutual, the financial services giant that bought LearnVest in 2015.
Von Tobel spoke to Reuters for the latest installment of "Life Lessons" about making the transition from graduate school dropout to chief innovation officer.
Q: Growing up in Jacksonville, Florida, what did your parents teach you about money?
A: My mom and dad both influenced me in different ways. My dad used to make money something he'd include me in. We'd look at my savings statements together and say, 'this is how much we're saving toward college.' Essentially, money was a part of a conversation. It wasn't stressful.
My mom had a massive impact on me because she came from a very frugal background. I remember I wanted a pair of white Keds. They were $40 or something like that. She said you're not getting Keds, you're getting the Sam's Club $9 version. It was a battle, but she didn't budge. She said she'd rather spend money on our family vacation.
Q: What was your first experience with working?
A: I babysat a ton. I worked at my parents' office, filing, for both of them. I got $10 an hour, and every single day, I'd go 9-5 in the back office.
Q: When you first got out of college, why were you overwhelmed by money decisions?
A: I couldn't believe that practical info hadn't been imparted to me. Roth vs. IRA? How many credit cards should you have? How much can I afford in rent?
So I founded LearnVest. I enrolled in Harvard Business School in 2008 and took a leave after one semester – and I never finished.
Q: At what point did you realize you needed to step it up and get some financial certifications?
A: I'm very curious. So I started studying to be a certified financial planner. Two or three years into doing LearnVest, I (spent) a few months of nights and weekends and took the CFP exam and passed. It's a brutal test.
It's helpful to be a successful entrepreneur who is also a CFP, because it's very grounding. You only need so much money. And being a financial planner, you can make a little bit of money go a lot of ways.
Q: What did you learn from starting your own business?
A: There are no shortcuts. When you are trying to build a successful business, you put one foot in front of another.
Q: Now what have you learned about the corporate world?
A: Northwestern Mutual is a massive company and touches millions of families. They took the core platform of LearnVest – the software we built – and that will go out to millions. We're relaunching LearnVest, strong as ever. You'll see it soon.
Many acquisitions have the founder running out the door, but it's three years later, and we're here, still embracing major amounts of change.
Q: What is your philosophy around charitable giving?
A: Charity for people is a very personal decision. Rather than spraying money around in ad hoc ways, it's better to be focused. Young people will say, they do not have a lot of money, and I say, you have time – roll up your sleeves.
Q: You have two young children. What do you hope to teach them about money values?
A: I think of money as habit-building. My daughter, who is 3, has five piggy banks. One is massive, and they get smaller. The big one is for college. The very small ones are for things like a bike and a cupcake. We're drilling into her the concept of saving.
Editing by Lauren Young and Bernadette Baum


Source : Reuters