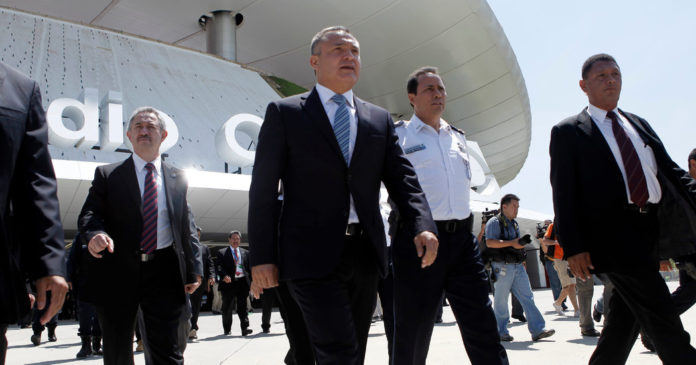 A retired Mexican police official who once led his country's equivalent of the F.B.I. was indicted in New York on Tuesday on charges of taking bribes while in office to protect the Sinaloa drug cartel, one of Mexico's most powerful criminal mafias.
The official, Genaro García Luna, served as the head of Mexico's Federal Investigation Agency from 2001 to 2005, and for the next six years was Mexico's secretary of public security, a cabinet-level position. In that role he was tasked with helping the president at the time, Felipe Calderón, craft his strategy to battle their country's drug cartels.
But according to prosecutors in Brooklyn, even while Mr. García Luna presented himself as the public face of the war against the drug trade in Mexico, he was quietly receiving millions of dollars from the Sinaloa cartel, which was run at the time by the drug lord Joaquín Guzmán Loera, better known as El Chapo.
Mr. García Luna is now in custody in Dallas.
An indictment unsealed on Tuesday in Brooklyn, where Mr. Guzmán was himself convicted on drug charges in February, also accused Mr. García Luna of lying to American investigators and taking part in a conspiracy to traffic cocaine.
The arrest of Mr. García Luna, on Monday, was a signal event in the history of the drug war in Mexico — something akin to the director of the F.B.I. being taken into custody for receiving bribes from the head of the Gambino crime family. The charges against him, prosecutors said, were a direct result of testimony at Mr. Guzmán's trial in New York.
At the trial, Jesús Zambada García, the brother of Mr. Guzmán's chief partner, Ismael Zambada García, told the jury that he had twice personally given Mr. García Luna briefcases filled with at least $3 million in cash.
Mr. Zambada also testified that a syndicate of Mexican traffickers was putting together a separate package of as much as $50 million in bribes for Mr. García Luna, although those payoffs seem not to have been made.
In statements to reporters at the time, Mr. García Luna denied the allegations made during the trial.
In court papers, prosecutors said that they had obtained financial records showing that Mr. García Luna had amassed a vast personal fortune that was "inconsistent with a civil servant's salary in Mexico."
In 2012, after his public service ended, Mr. García Luna moved to Miami. The financial records indicated that Mr. García Luna continued to live in the United States "off the millions of dollars in bribes that the Sinaloa Cartel paid him," the court papers said.
Prosecutors also said that when Mr. García Luna submitted an application to become a naturalized United States citizen in 2018, he "affirmatively lied about his past criminal conduct on behalf of the Sinaloa cartel."
Mr. García Luna was expected in Federal District Court in Dallas on Tuesday afternoon for an initial appearance. His lawyer, Rose Romero, was not immediately available for comment.
Mexico's attorney general's office said Tuesday afternoon that it had been investigating Mr. García Luna for a range of possible crimes, including conspiracy to traffic cocaine, organized crime, making false statements and bribery. In a statement, the office said it planned to request the extradition of Mr. García Luna to Mexico.
Politically astute and well-liked in Washington, where he often met with senators and White House aides, Mr. García Luna was, at least in public, a vocal critic of corruption in Mexico. He spent much of his time in office trying to reform the Mexican federal police, increasing their salaries and firing hundreds of police commanders he did not trust.
He is considered the main architect of Mr. Calderón's militarized approach to battling drug traffickers, which began in 2006 with the deployment of the armed forces against organized crime and the president's official declaration of "war" on them. A cornerstone of the strategy was to focus on kingpins, on the theory that cutting off the head of a criminal organization would wither the body.
Mr. Calderón and Mr. García Luna were partly successful in that approach, capturing or killing many of the most-wanted traffickers in the country. After almost every major arrest, Mr. García Luna delighted in posing suspects alongside captured weapons and drugs in a show for the news media.
Among Mr. García Luna's trophies while serving in Mr. Calderón's cabinet was the arrest in 2010 of Edgar Valdez Villarreal, known as La Barbie, an American-born drug trafficker.
Mr. Valdez, in a letter sent to a national Mexican newspaper, later accused Mr. García Luna of having accepted bribes from organized crime groups — and from him directly. A spokesman for Mr. García Luna at the time denied the allegations and said they were an attempt to "publicly discredit" the Mexican authorities and "blackmail" them in exchange for privileges inside the federal prison where Mr. Valdez was being held.
Mr. Calderón's successor, Enrique Peña Nieto, took office in 2012 and followed a similarly militarized approach. And though the country's homicide tallies declined from 2011 to late 2014, they have since trended upward.
The current president, Andrés Manuel López Obrador, has vowed to end his predecessors' war on drugs and remove the military from the streets in the fights against drug trafficking organizations.
But despite his creation of a new force, called the National Guard, violence has continued at record levels. And dramatic eruptions of violence — like a city siege by cartel gunmen and the murder of three women and six children — have raised questions about whether his strategy can staunch the bloodshed.
Mr. Calderón, the former president, said in a tweet that he had learned about the "alleged arrest" of Mr. García Luna through social media and was waiting for more information about the case.
"I do not know details," he said. "My position will always be in favor of justice and the law."
Kirk Semple and Paulina Villegas contributed reporting.




Source : Nytimes