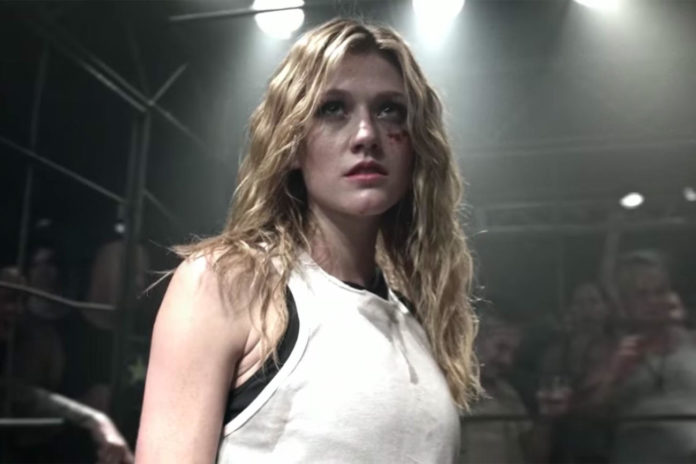 Now Playing
Arrow: Emily Bett Rickards Plays the Name That Costume
Next Up
Watch HBO's Barry Season 2 Trailer
Arrow's Season 7 flash-forwards have been a bucket of mysteries, but no storyline has been more compelling (of confusing) than Blackstar (Katherine McNamara) and her loose involvement in Felicity's (Emily Bett Rickards) apparent death 20 years in the future.
Last we saw, Blackstar broke into the old Arrow Cave while telling Connor Hawke (Joseph David Jones) that vigilantes were the death of Star City and they all got what they deserved — which has apparently been nothing but ruin and misery. So why is she so anti-vigilante? McNamara says we'll find out more when we uncover some key details about her past.
"[That attitude] comes from how she was raised," McNamara told TV Guide at the Television Critics Association winter press tour, "and the environment in which she was raised. She was brought up in a very harsh world and a world that we haven't seen a lot of or heard a lot about and there's still a lot to discover. I can tell you next week's episode will have some answers."
Discover your new favorite show: Watch This Now!
The question we most want answered is obviously what part Blackstar played in Felicity's death and if this anti-vigilante attitude had anything to do with it. She seemed pretty shocked to hear that Felicity was no longer in the land of the living when William (Ben Lewis) shared the news with her, but even he speculated that she might know more than she's letting on. Fans can only hope that whatever she knows, it could lead to a scenario where Felicity isn't, in fact, dead at all. After all, a world without Felicity Smoak is no world we want to live in!
Arrow airs Mondays at 8/7c on The CW.
(Disclosure: TV Guide is owned by CBS, one of The CW's parent companies.)
PHOTOS: The Top 25 CW Ships of All Time, Ranked
Stephen Amell and Emily Bett Rickards, ArrowPhoto: Jack Rowand, Jack Rowand/The CW




Source : TVGuide