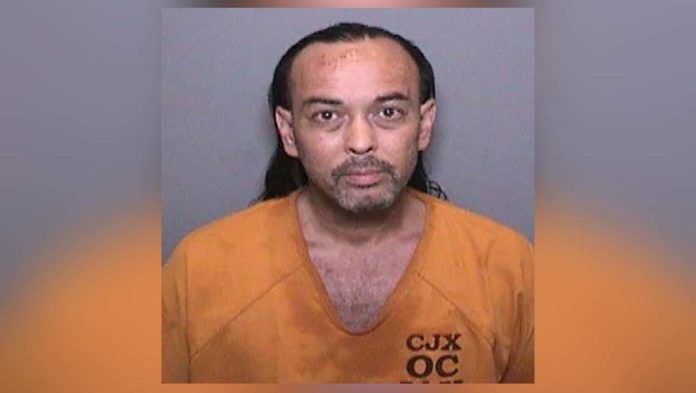 An arson suspect was arrested in connection with the 4,100-acre wildfire burning in Cleveland National Forest that flared up Wednesday and spread toward homes.
The U.S. Forest Service confirmed 51-one-year-old Forrest Gordon Clark was arrested Tuesday on suspicion of two counts of felony arson, one count of felony threat to terrorize and one count of misdemeanor resisting arrest. Details about how the Holy fire started were not immediately available.
The Orange County Register reported that the suspect owns a cabin in the Holy fire area and allegedly sent an email warning "this place will burn." Volunteer Fire Chief Mike Milligan told the Register that he received the emails last week.
"He has issues," Milligan told the Register. "I hope they get him."
A court appearance is scheduled for Thursday, according to jail records. 
The Holy fire in Riverside and Orange counties, which has scorched about six square miles, is one of more than a dozen large wildfires burning in California, including the Mendocino Complex — the state's largest wildfire on record. Major fires also are burning in Shasta County and in and around Yosemite National Park during what could be one of the worst years for wildfires on record in California. 
The Holy fire is at least the second large wildfire this summer that authorities said was started by an arsonist. Last month, a Temecula man was arrested on suspicion of starting nine fires, including the 13,000-acre Cranston fire in the San Jacinto Mountains of Riverside County. 
The Holy Fire was first reported about 1:15 p.m. Monday near Holy Jim Canyon and Trabuco Creek roads, according to Orange County Fire Authority Capt. Tony Bommarito. The fire grew to more than 4,100 acres by Wednesday morning. It was less than 5-percent contained.
The area has not burned since the early 1980s, leaving hillsides covered in dry brush that provides fuel for the fire. 
A care and reception center was established at Temescal Canyon High School on El Toro Road in Lake Elsinore.
About 600 firefighters were called in to try to encircle the blaze, with the USFS taking the lead, aided by personnel from Cal Fire, Corona, the OCFA and other agencies.
California could be facing the toughest wildfire season ever as some 18 gigantic blazes ravage the state. Some 14,000 firefighters are battling fires that have destroyed more than 1,000 homes and claimed six lives thanks to wind-whipped flames that have caused an explosive spread through vegetation left tinder-dry by years of drought.
California's largest recorded blaze — the side-by-side fires dubbed the Mendocino Complex — needed just 11 days to blacken an area nearly the size of Los Angeles. A deadly fire that destroyed more than 1,000 homes in the Redding area of Northern California is less than 50 percent contained.




Source : Nbcnewyork