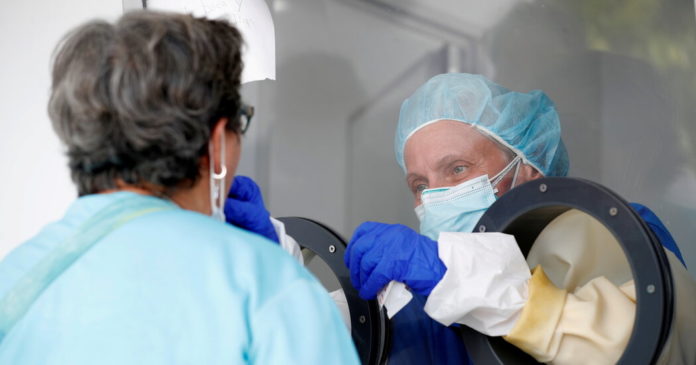 As the Delta variant of the coronavirus spreads in the United States, some counties are reopening community testing sites that they shuttered last spring, when case counts were falling and attention was shifting to vaccination.
The demand for testing has been rising over the last month. By the end of July, an average of nearly 900,000 coronavirus tests were being performed daily, compared with 500,000 to 600,000 a day in earlier in the month, according to the U.S. Department of Health and Human Services.
Several factors are likely responsible for the increase, including the spread of the highly contagious Delta variant, as well as new mandates that require unvaccinated people to take frequent tests. The Centers for Disease Control and Prevention also recently changed its guidance for vaccinated people, recommending that they be tested if they are exposed to the virus, even if they don't have any symptoms.
Testing has been a trouble spot for the United States since the start of the pandemic. A flawed test, regulatory red tape and supply shortages initially led to hourslong lines at testing sites and dayslong waits for results.
Officials eventually ironed out some of these kinks and when infections were soaring last year, government-run mass testing sites, offering free virus tests to all comers, sprang up all over the country. Some delays and problems persisted, however, even as capacity increased.
When the vaccines were authorized, many of large testing sites were converted into vaccination sites and some shut down entirely. Virus testing largely shifted to the private sector — to local pharmacies and commercial labs, for instance.
"There are far fewer testing sites, public testing sites, than existed six months ago," said Mara Aspinall, an expert in biomedical diagnostics at Arizona State University. "So that to me is a concern."
After residents began reporting a three-day wait for testing appointments at pharmacies in Hillsborough County, Fla., the county opened two free, walk-in testing sites last weekend. Officials had planned to administer about 500 tests a day at each site and ended up performing almost twice that many, said Kevin Watler, a spokesman for the Florida Department of Health.
"It was very, very busy," he said. "So the demand is certainly there."
Many other testing sites are springing up across Florida, where the virus is surging, as well as across the country. In California, San Diego County added five new test sites last week after an increase in traffic at its existing sites, officials said.
Other localities are expanding the hours at testing sites or deploying pop-up testing clinics, and some are combining their testing and vaccination services. Last week, Delaware's Division of Public Health announced that it would begin offering tests at its vaccination sites, and a new drive-through testing and vaccination site opened in New Orleans .
"As we experience the fourth and most severe surge of Covid-19 in Louisiana, we must take a multipronged approach to combat the virus," Dr. Jennifer Avegno, the director of the New Orleans Health Department, said in a statement. "Masking slows the spread, testing identifies cases and pandemic trends, and vaccines prevent hospitalizations and deaths. It only makes sense to co-locate these resources so that residents can access the tools they need to stay safe in one stop."


Source : Nytimes