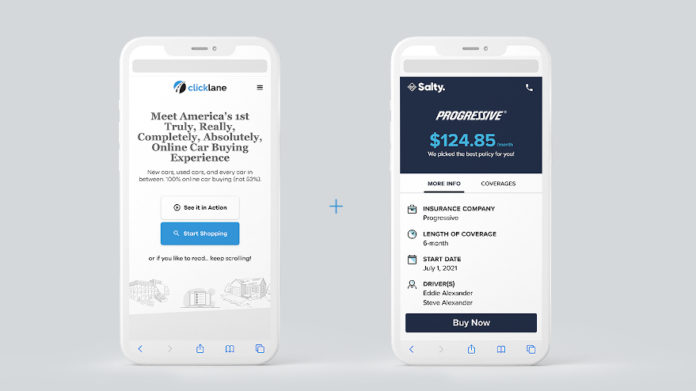 Thursday, Jul. 08, 2021, 10:57 AM



DULUTH, Ga. – 
Thanks to a partnership with insurtech company Salty, shoppers using Asbury Automotive Group's Clicklane online car-buying can generate a bindable insurance quote and still remain on the platform.
Salty's Software-as-a-Service platform gives insurance carriers and distribution partners a way to provide customized policies on a product or service in real-time while the purchase is happening.
The platform analyzes the buyer and the purchase via artificial intelligence and machine learning, and then sorts through multiple carriers to determine what insurance is best.
"The partnership with Salty further proves our dedication to a complete digital experience while continuing to drive our omnichannel strategy," Asbury chief executive officer and president David Hult said in a news release. "Asbury customers spend almost $350 million on insurance every year, and they deserve a state-of-the-art customer experience that includes the option to protect their vehicle purchases."
Salty chief product officer Toby Coleridge added: "Salty is excited to launch this digital-first partnership with Asbury on their Clicklane transactional software.
"Technology and analytics are at the core of what drives a great modern customer experience, and we look forward to a successful partnership with Clicklane while serving car shoppers nationwide," Coleridge added.


Source : AutoFinanceNews