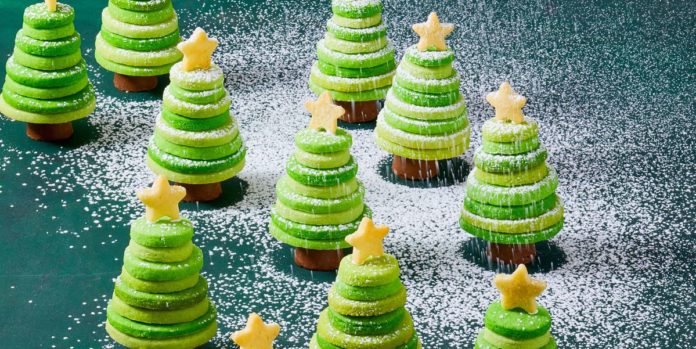 Sugar cookie trees are easy to assemble and stack up against even the fanciest Christmas confections. Made with basic sugar cookies tinted green with gel food coloring and "glued" together with royal icing, they're a fun take on classic Christmas cookies that are perfect for this year's swap. Finished with a dusting of confectioners' sugar and a small golden star cookie, they also make a charming centerpiece!
Here's what you'll need for these cookie trees
A set of round cookie cutters in different sizes. It's important to have 3-4 circle cutters that decrease slightly in size from large to small. When stacked, they will create a conical, Christmas tree shape. Try this set.
A mini star cookie cutter for topping off your tree.
Gel food coloring. We love using gel food coloring instead of liquid because it creates a vibrant, intense color. Plus, a little goes a long way. If liquid food coloring is all you have on hand, use a few extra drops to create the desired evergreen hue.
Tips for the best cookie trees
When making almost any cookie recipe, it's best to start with room temperature butter. If you're short on time, check out our favorite ways to quickly thaw frozen butter (it works with refrigerated butter, too!).
Place dough in between pieces of parchment before rolling to prevent sticking. You could use a floured surface, but that increases the chance of too much flour being incorporated into the dough, leading to less tender cookies. Parchment is also great if you need to make a lot of dough—you can stack several layers when chilling. 
Dip cookie cutters in flour before stamping out shapes; this will help prevent the cutters from sticking to the dough.
Be sure to press firmly on all edges of the cookie cutter as you cut into the dough for the sharpest shapes.
Chilling the dough not only makes it easier to cut, but it also solidifies the fat in the cookies. If the fat in the cookies is too warm, the cookies will spread as they bake. Don't skip this step!
Smaller cookies will not take as long to bake as bigger cookies. Be sure to keep an eye on the oven and remove smaller cookies when they are light golden brown around the edges.
Advertisement – Continue Reading Below
Yields:

2

dozen


Prep Time:

0

hours

30

mins


Total Time:

0

hours

45

mins


2 3/4
c.

all-purpose flour
1
c.

(2 sticks) unsalted butter, at room temp
1 1/2
tsp.

pure vanilla extract
Graduated round cookie cutters
Chocolate covered caramels (such as Rolo)
Confectioners' sugar, for dusting
This ingredient shopping module is created and maintained by a third party, and imported onto this page. You may be able to find more information about this and similar content on their web site.
In a large bowl, whisk together flour, baking powder and salt.
In another large bowl, using electric mixer on high speed, beat butter and sugar until light and fluffy, about 3 minutes. Beat in egg and then vanilla.
Reduce mixer speed to low and gradually add flour mixture, mixing just until incorporated. Divide dough into 4 portions. Keep portions wrapped in plastic while coloring.
Working with 1 portion at a time, add a couple of drops green food coloring to dough and mix until fully incorporated. (Tip: Tint slightly darker than you desire; cookies will bake up lighter.) Roll between 2 sheets of parchment paper to 1/8 inch thick. Chill until firm, 30 minutes in refrigerator or 15 minutes in freezer. Repeat with remaining dough.
Heat oven to 350°F. Line baking sheets with parchment paper. Using floured cookie cutters, cut out cookies. Place on prepared sheets. Reroll, chill and cut scraps.
Bake, rotating positions of baking sheets halfway through, until cookies are light golden brown around edges, 10 to 12 minutes. Let cool on sheets 5 minutes before transferring to wire racks to cool completely.
Use royal icing to "glue" cookies together in tree shapes with stars at top and chocolate caramels as trunks. Dust with confectioners' sugar if desired. 
Did you make this recipe? Comment below!
This content is created and maintained by a third party, and imported onto this page to help users provide their email addresses. You may be able to find more information about this and similar content at piano.io
Advertisement – Continue Reading Below


Source : Goodhousekeeping