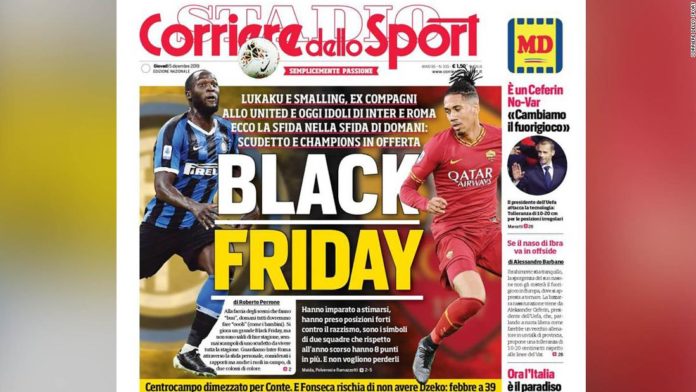 The banner was accompanied by photographs of former Manchester United teammates Chris Smalling and
Romelu Lukaku
, who play for AS Roma and Inter Milan respectively.
The two teams are set to face each other in Italy's top division Friday, but the paper has been subject to widespread condemnation.
"Tone deaf, ignorant and with the usual racial undertones. Saying I'm shocked would be a lie at this point," tweeted football journalist
Matteo Bonetti
.
The rest of the article, which looked ahead to Friday's clash, appeared to address the league's ongoing racism issues.
"To hell with the idiots who 'boo,' tomorrow we should all do 'oooh' like children. We play a great Black Friday. But it is not the sales season," it read.
Ivan Zazzaroni, editor of Corriere dello Sport, wrote a passionate defense of the headline Thursday, criticizing those who took offense.
"'Black Friday', for those who want and can understand it, was and is only the praise of difference, the pride of difference, the magnificent wealth of difference," he wrote.
"If you don't understand it, it's because you can't do it or because you're pretending you can't do it.
"An innocent title, actually perfectly argued by Roberto Perrone (the article's writer), is transformed into poison by those who have poison inside themselves."
However, both AS Roma and Inter Milan have tweeted opposition to the headline.
Widespread criticism
Roma's chief strategy officer Paul Rogers said the choice of headline was "shocking."
"The clear intention of the newspaper story was actually something positive but the headline has completely overshadowed the anti-racist message contained within the article," he said in a statement.
"Unfortunately, more people will see that ill-advised headline than read the actual article and it creates a completely unnecessary controversy at a time when clubs are trying to tackle the issue of racism in Italian football."
Other Italian clubs have joined in the criticism, with AC Milan launching a strong rebuke.
Racism problem
The headline comes at a time when Italian football has been criticized for the way it has handled racist incidents.
Both incidents were met with meager penalties — Verona was handed a one-match partial stadium closure and Cagliari escaped any serious punishment.
"We must now act with speed, with purpose and with unity and we call on you, the fans, to support us in this vitally important endeavor," it read.
This is not the first time an Italian paper has been embroiled in a racism row.
CNN's Gianluca Mezzafiore and Sharon Braithwaite contributed to this report.




Source : Nbcnewyork