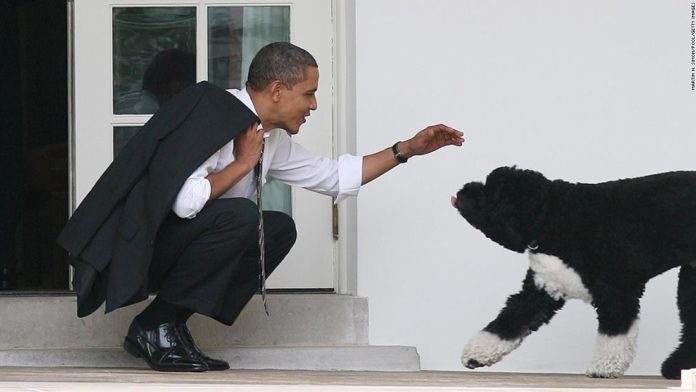 President Barack Obama runs down a White House hallway with the family's Portuguese water dog, Bo, on April 13, 2009. Bo was a gift from Sen. Ted Kennedy and his wife, Victoria, to the President's daughters, Sasha and Malia.
Obama's dog, Sunny, goes out for a walk on the North Lawn of the White House on January 22, 2016.
The President, first lady Michelle Obama and their daughters, Sasha and Malia, pose with Sunny and Bo on Easter Sunday in April 2015.
Bo and Sunny lie on the South Lawn of the White House on August 19, 2013.
Obama pets Bo outside the Oval Office on March 15, 2012.
Obama and the first lady read to children with Bo during the White House Easter Egg Roll on the South Lawn of the White House on April 25, 2011.
Obama plays football with Bo on the South Lawn on May 12, 2009.
The first family introduces Bo to the White House press corps at the South Lawn on April 14, 2009.
First lady Laura Bush, her Scottish terrier, Barney, and Santa Claus visit Brittanie Morris at the Children's National Medical Center on December 12, 2002, in Washington.
President George W. Bush holds up his dog, Barney, upon arriving at the South Lawn of the White House on February 3, 2002.
President George W. Bush and first lady Laura Bush walk with their dogs, Barney and Spot, on the South Lawn on December 2, 2001.
President Bill Clinton tosses a tennis ball for his dog, Buddy, at the White House on July 14, 1999.
Hillary, Chelsea and Bill Clinton depart the White House with Buddy on August 17, 1994.
Clinton walks Buddy along the beach during sunset in Hilton Head, South Carolina, on December 30, 1992.
First lady Barbara Bush talks to her dog, Millie, as she and granddaughter Barbara Bush wait for President George H.W. Bush to return to the White House on September 13, 1991.
President Ronald Reagan presents first lady Nancy Reagan with a King Charles spaniel named Rex as an early Christmas present at their suite in a New York City hotel on December 6, 1985.
President Gerald Ford sits with his daughter, Susan, on the floor of the White House's Great Hall watching their golden retriever, Liberty, circa 1978.
President Lyndon B. Johnson kneels and pets his beagle, Him, on the White House lawn in 1964. Johnson's other beagle was named Her.
President John F. Kennedy and first lady Jacqueline Kennedy pose with their family and their dogs, German shepherd Clipper and Welsh terrier Charlie, on Christmas Day at the White House in 1962.
President Franklin Delano Roosevelt sits in his car with his Scottish terrier, Fala, on February 7, 1941.
Roosevelt poses with Fala and a friend's granddaughter, Ruthie Bie, at Hill Top Cottage in Hyde Park, New York, around 1940.
Roosevelt sits behind the wheel of his car outside of his home in Hyde Park, New York, with his German shepherd, Major, in the mid-1930s.
President Warren G. Harding, first lady Florence Harding and their Airedale terrier, Laddie Boy, watch from a balcony as the annual Easter Egg Roll takes place on the White House lawn, circa 1922.


Source : Nbcnewyork