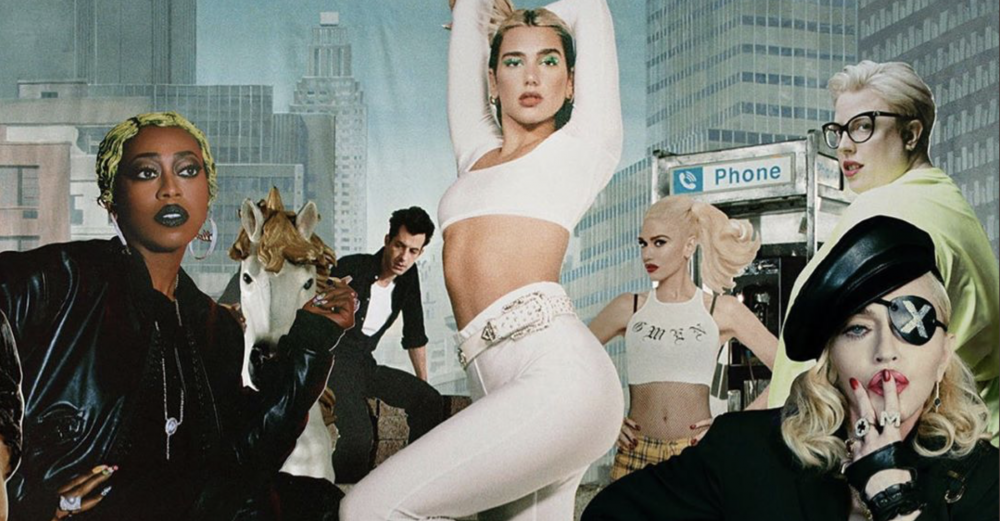 Warner Records ruled the 2021 BRIT Awards with three wins – two for Dua Lipa (Mastercard Album and Female Solo Artist) and one for singer-songwriter, Griff (Rising Star). And the executive who signed both artists got his own reward shortly afterwards, when head of A&R Joe Kentish was appointed label president, following predecessor Phil Christie's decision to step down.
Kentish takes over on June 1 and inherits a label in strong shape, with Warner's market share of all U.K. music sales/streams rising to 4% in 2020, according to the Official Charts Company, and a much more diverse roster than the rock-heavy line-up of five years ago.
"It's a very privileged position – we have a really strong roster, they're producing great music and it's being recognized by audiences around the world," Kentish tells Variety, in his first interview since taking the role. "We're a broad church in terms of music, but Warner artists have a lot in common in their approach to music. We pride ourselves on being an artist development label, but that doesn't stop when you break record one. Artists have to constantly challenge themselves and try to evolve."
Kentish's approach has helped turn Dua Lipa into one of the world's biggest stars, with her "Future Nostalgia" album still in the Top 10 of the Billboard 200, more than a year after release.
"It's 'The Terminator' of albums, it just cannot be stopped!" quips Kentish. "Every time we think it's down, another single pops off in another territory or on another platform. And her work ethic is legendary. We use her as an example to other artists at the label and I know her management company, Tap Music, do the same."
Kentish says Lipa is "already thinking" about her third album and is planning to pull off "something completely different and at scale."
"She was talking about album No.3 when we barely had No.2 done!," he marvels. "You're half-expecting that she might want to take a break or go about things differently but she's like 'Right, what's next?' Her interests, her knowledge, her thirst to learn new things and to be in control of what she does just grows and grows. She's taking time to fully realise the album conceptually, but her belief in herself and the belief that she can pull off something completely different and at scale has only grown."
With that, and newer artists such as Griff, Gabe Coulter, Pa Salieu and The Blessed Madonna coming through, the new president is confident he can take Warner to even greater heights.
"I'm feeling really positive," he says. "I'm really excited to hear the future and what our artists come up with."
………………………………………………………………….
Despite the presence of Dua Lipa, Olivia Rodrigo and Coldplay, the BRITs were a TV ratings disappointment — continuing a trend that also has clobbered every awards show in the U.S. — losing 860,000 viewers on the 2020 ceremony for a total of 2.9 million. But one low number from the event will please the music industry: it was part of the government's Events Research Program (ERP), which revealed there were zero cases of COVID-19 resulting from the ceremony, despite there being no social distancing or mask-wearing once people were in their seats.
That has raised the prospect of a return to full capacity gigs from June 21, when the U.K. government hopes to lift all remaining restrictions – although rising cases of the coronavirus variant first detected in India may yet delay that plan.
In the meantime, however, the ERP has granted permission for Download Festival – which was forced to cancel its 2021 event back in March – to hold a 10,000-capacity, three-day pilot festival, with camping, on June 18-20. That's less than 10% of the rock/metal event's usual capacity – but Live Nation promoter Andy Copping still managed to pull a bill together, at six days' notice, headlined by Bullet for My Valentine, Enter Shikari and Frank Carter & the Rattlesnakes. More good news for rock fans: moshing will officially be allowed for the first time since March 2020.
………………………………………………..
Glastonbury Festival could also go ahead with a smaller-than-usual event, having been forced to scrap its usual three-day June extravaganza for the second year running. After a protracted hearing, the festival was granted a license for a one-day concert in September, with up to 50,000 attendees (but no overnight camping).
Organizer Emily Eavis says any event will be called Equinox, but Glastonbury sources tell Variety the event is still only a possible, rather than a definite, with work now going on behind the scenes and any official announcement likely to be at least a couple of weeks away.
……………………………………………………..
That will give Glastonbury plenty of time to deal with the fallout from its mishap-plagued "Live at Worthy Farm" livestream event. Technical problems on the night saw thousands of ticket-holders unable to access the stream, which starred Coldplay, Haim and Damon Albarn. A torrent of criticism – and a trickle of sympathy – on social media followed.
While everyone eventually gained access and the problem was fixed for later streams aimed at U.S. audiences, Ric Salmon – CEO of Driift, the livestream producer and promoter behind the event – tells Variety that being caught in the middle of the problems, the responsibility of a third-party tech provider, was "mortifying."
"There were already so many challenges that we'd had to overcome with the complexity of the event and contending with dreadful weather throughout the week of filming," he says. "But the team of incredible professionals that worked on every aspect of the show pulled it all together in spectacular fashion. It made the tech failure even harder to bear."
Once people were able to watch, reviews of the ground-breaking event were actually highly positive, but some in the industry will be concerned that such a high-profile fail could damage the livestreaming format in the eyes of music fans.
"We've been very fortunate that our shows have been largely problem free until now," says Salmon. "But as a sector, and as an industry, we have to work together to ensure the robustness of the delivery. I still believe this is an exciting new format and model with massive creative potential, and one that audiences will embrace. It's not a replacement for live music, and it doesn't cannibalize other revenue streams, so all of us should have a vested interest in making it work."
………………………………………………………………….
Meanwhile, the fledgling livestreaming sector is facing up to another blow, after performance rights organization PRS for Music, which represents songwriters and publishers, announced its plans for a revised livestream tariff. The collection society says an "interim discounted rate" of 10% of event revenue above £1500 ($2050) will apply while live events remain restricted. The tariff will also apply retrospectively.
While smaller events will have lower fees and those only performing their own work can apply for a free "Discretionary License", the main tariff will likely rise to at least 15% once the live sector returns to normal.
Trade bodies including LIVE, which represents concert promoters, venues, booking agents and ticketing companies, the Featured Artists Coalition (FAC) and the Music Managers Forum (MMF) have all voiced their opposition.
PRS has already backed down once, withdrawing its original plans in February. But FAC CEO David Martin warns that, if the tariff is not revised again, it will "throttle the livestreaming format".
"Some promoters have said categorically they will not be hosting livestreams," Martin tells Variety. "And lots of our members, the vast majority of whom are songwriters themselves, have written to me saying they won't be doing livestreams anymore. I just do not see how this is going to get PRS members paid in the long term. It's a punitive and very short-sighted measure for a format that needs to be nurtured."
Martin does not rule out taking further action, but at the moment there's little sign of movement from PRS.
"We have had healthy debate on ticketed livestreamed events with key stakeholders across the industry," says a spokesperson for the society. "Importantly, everyone agrees that songwriters must get paid when their songs are played and used. The discounted rate we are providing will ensure songwriters, composers and publishers are paid for their work, while allowing the emerging online live concert sector the freedom to innovate and grow."
……………………………………………………………….
Meanwhile, another leading U.K. collection society, PPL, showed the impact of the pandemic on artists' incomes with its financial figures for 2020.
PPL, which licenses recorded music for broadcast and public performance on behalf of performers and labels (and stands for Phonograph Performance Limited, although no one calls it that), saw its collections drop 17% to £225.7m ($308.5m) last year.
But CEO Peter Leathem tells Variety he's confident revenues will rise again in 2021, although he anticipates a longer delay before collections return to pre-COVID levels, particularly internationally.
Those collections could also be boosted when U.S. artists become eligible to share in royalties generated by their music in Europe, following a European Court of Justice ruling last year (even though performers do not receive payment for AM/FM radio play or public performance in America). That ruling could also apply in Britain if it's built into a new, post-Brexit U.K./U.S. trade deal.
"It will be a positive thing for PPL's business for us to be able to collect more money around the world for U.S. performers," says Leathem, who now expects increased competition in an international neighboring rights market that already features the likes of BMG, Downtown, Peermusic and Sony (via its acquisition of Kobalt Neighboring Rights).
"Some of the very well-known U.S. performers have been of less interest to some people in the past, because their rights aren't that valuable compared to what they're doing in the streaming market," he adds. "Now they're going to be very attractive to a lot of service providers."
Mark Sutherland has been covering the British music scene for over 25 years, most recently spending five years as editor of U.K. trade magazine, Music Week. Follow him on Twitter at @msutherlanduk.




Source : Variety