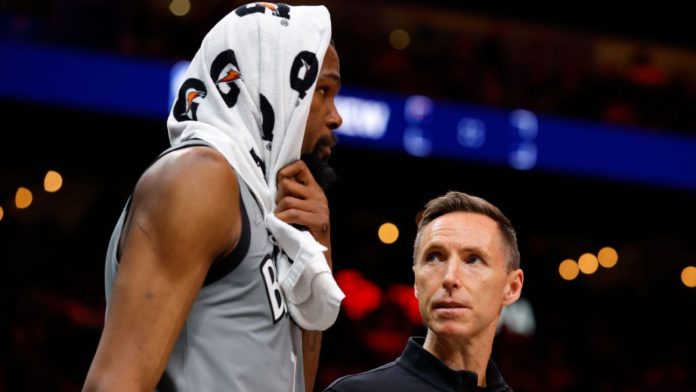 ATLANTA — Brooklyn Nets star Kevin Durant scored a career-high 55 points that included a career-high eight 3-pointers on Saturday night — but those weren't the numbers he was focused on after a disappointing 122-115 loss to the Atlanta Hawks.
Durant was frustrated that his team was "undisciplined" defensively and couldn't get over the fact that they allowed the Hawks to go to the free throw line 49 times compared to just 19 attempts for the Nets.
"We're fouling early," Durant said. "We put them in the bonus early every quarter. 37-14 [difference in] free throw makes. And it's not 'cause of the refs, it was because we're reaching and being undisciplined and just playing too aggressive. That's the game. They shot 42 percent from the field which is great defense, 31 from the 3. They outrebounded us by two, and one more assist than us … it's just fouls. And we can't do that if we want to be a winning team."
With the loss, the 40-38 Nets slid into 10th place in the Eastern Conference with just four regular-season games remaining. On a night when they should have been celebrating Durant's brilliance — especially given the Nets were playing without Goran Dragic (health and safety protocols), Bruce Brown (non-COVID illness) and Seth Curry (sprained left ankle) — the Nets were left to lament the fact they couldn't provide the assistance to close an important game over a team that just jumped them in the standings.
"It doesn't even feel like he had 55 tonight," Nets guard Kyrie Irving said. "You know what I mean? Just the way that we feel about the game afterwards."
For his part, Durant — who finished the night 19-for-28 from the field, 8-for-10 from beyond the arc, 9-for-11 from the foul line and added seven rebounds and three assists in 42 minutes — said this particular loss wasn't any more disappointing given his career night.
"Every loss is deflating," Durant said. "I ain't even worried about that, I'm just mad at the loss. I'm glad I shot the ball well. Made eight 3s, a career high, but I wish we would have came out with a W just by doing the little stuff. My points are going to come, my shots are going to come, but the little stuff that we got to do, we got to be on the same page with."
Like many of his teammates, Irving struggled to find a rhythm on either end of the floor. He finished just 12-for-32 from the field and took "full accountability" for needing to do a better job defensively in the post and "play without fouling." On top of the defensive issues, Irving was disappointed that he and the rest of the Nets couldn't do more to help Durant on the offensive end.
"We just have to ease his burden on the offensive end," Irving said. "He's going to be Kevin Durant. We know who he is. We know what he's capable of, but we have to be there to support him. And we have to be there ready to play just as much as he is and not allow frustration seep in at all."
Despite the loss, both Durant and Irving remain convinced that the Nets can still get back on track before the play-in tournament starts in less than two weeks.
"I can't come in here acting like I'm losing confidence," Durant said. "We lost some games and we're going to keep playing until it's over. That's how I feel."
Irving echoed a similar sentiment.
"This is just a metaphor, you go home, you get your bulletproof vest, you go get your hand gun, you go get your rocket launcher, you go get your AK. You load up everything," Irving said. "You load up all the ammo. This is just a metaphor, people. But you go home, you get ready for war and you don't just live with the results, but you go out there with a mental focus and a no fear attitude, and you really play for each other and that's what it comes down to. We don't have any time to waste."
What the Nets wasted on Saturday was an all-time Durant performance in a career that has been full of Hall of Fame-worthy highlights. They couldn't enjoy the high of his personal achievement because the low was so low.
"We didn't play a good ballgame," Nets coach Steve Nash said. "I can't really sugarcoat it."


Source : ESPN