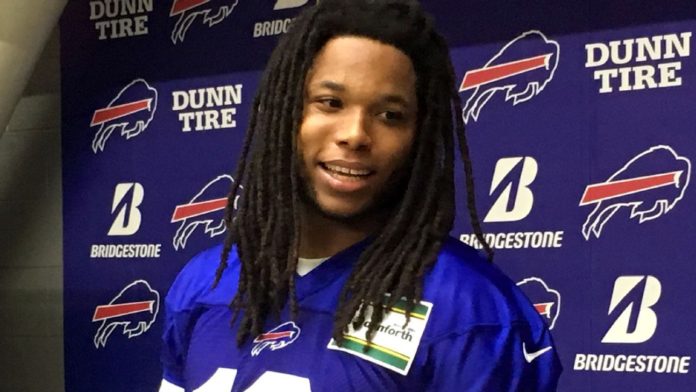 PITTSFORD, N.Y. — Buffalo Bills coach Sean McDermott was critical Sunday of comments made by wide receiver Kelvin Benjamin last week that were critical of his former team, the Carolina Panthers.
"There's a time and a place — I'm not saying specific to what comments were made — there's a time and place for things like that," McDermott said. "This was not one of them. We have a lot of respect for our opponents, No. 1, and everyone in the league. I've spoken with Kelvin and that's not how I want us to handle things like that. So we'll move forward as a team, and I'm hoping we've already done that."
Benjamin told The Athletic in a Q&A after practice on Friday that he and the Panthers were never a good fit and he lamented that he wasn't able to play with a more accurate quarterback to begin his career.
"I mean, I felt like I would've been even more successful if … I don't know, man … if I would've … looking back on it, I should've just been drafted by somebody else. I should've never went to Carolina. Truly, I just think Carolina was bad for me. It was a bad fit from the get-go," he told the website.
"If you would've put me with any other quarterback, let's be real, you know what I'm saying? Any other accurate quarterback like [Aaron] Rodgers or Eli Manning or Big Ben [Roethlisberger] — anybody! — quarterbacks with knowledge, that know how to place a ball and give you a better chance to catch the ball. It just felt like I wasn't in that position."
Newton appeared to answer Benjamin in a video posted via his Instagram story.
"Hey, I ain't going to go back and forth with him. I'm just going to work. You feel me? That's all it is, you know what it is. Just work baby," Newton said in the video while he is walking on a treadmill.
The Bills host the Panthers this Thursday at New Era Field in both teams' preseason opener.
"That's a part of it, but the bigger part of it is our focus needs to be on what we're doing," McDermott said Sunday. "Like I said, we respect what they do, every opponent — everyone in the league for that matter — but the bigger part is our focus needs to be on us and our approach to training camp."
Newton posted a 58.5 completion percentage in Benjamin's first season in 2014 and has cracked 60 percent just twice in his career — 60 percent in 2011, his rookie season, and 61.7 percent in 2013. He has a career completion percentage of 58.5.
Benjamin answered those critical of his comments in a tweet Saturday, writing that he has been "holding it all in. And now I'm free. Hate me or love me."
Benjamin was one of four receivers drafted in the first round in 2014 (28th overall), along with Sammy Watkins, Odell Beckham Jr. and Brandin Cooks. Asked by The Athletic if he felt being drafted by Carolina set him back compared to those other players, he said, "Not at all!"
"I feel like I'm the best one that came out of that class! They were just put in better opportunities to have success. If you notice, at the end of the day, my rookie year I was the only one to get to the playoffs. Nobody else went to the playoffs. I'm the only one that helped my team go to the playoffs," he told the website.
The Panthers qualified for a wild-card spot in the NFC during Benjamin's rookie season. He missed the 2015 season, when the Panthers advanced to the Super Bowl, after he tore his ACL during the preseason. The Panthers traded Benjamin to the Bills during last season.
Benjamin, 27, has caught 184 passes for 2,641 yards and 19 touchdowns in his NFL career. Last season between the Panthers and Bills he finished with 48 receptions for 692 yards and three touchdowns.


Source : ESPN