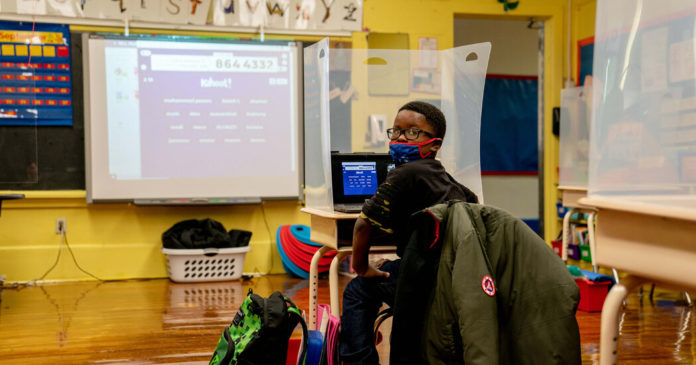 In a major policy revision that will enable many schools to welcome children back to in-person instruction, federal health officials on Friday relaxed the six-foot distancing rule for elementary school students, saying they need only remain three feet apart in classrooms as long as everyone is wearing a mask.
The three-foot rule also now applies to students in middle schools and high schools, as long as community transmission is not high, officials said. When transmission is high, however, these students must be at least six feet apart, unless they are taught in cohorts, or small groups that are kept separate from others.
The six-foot rule still applies in the community at large, officials emphasized, and for teachers and other adults who work in schools, who must maintain that distance from other adults and from students.
"Transmission dynamics are different in older students — that is, they are more likely to be exposed to SARS-CoV-2 and spread it than younger children," the Centers for Disease Control and Prevention said in a statement.
Dr. Rochelle Walensky, the director of the C.D.C., explained that the agency is always updating its guidance as new evidence becomes available. A recent study in Boston found no significant differences in the number of infections in schools districts in Massachusetts that adopted a three-foot rule, when compared with those that required six feet of distance. Additional C.D.C. studies examining safety in schools were also released Friday.
"C.D.C. is committed to leading with science and updating our guidance as new evidence emerges," Dr. Walensky said. "These updated recommendations provide the evidence-based road map to help schools reopen safely, and remain open for in-person instruction."
The new guidance emphasizes that good air flow and ventilation in school buildings is a critical component of maintaining a safe environment, and continues to stress multiple layers of preventive behaviors including universal masking, hand washing, cleaning buildings and doing contact tracing, combined with isolation and quarantine.
Adults in schools must continue to stay six feet apart from other adults and from students, officials said. The six foot rule still applies in common areas of schools like lobbies and auditoriums, any time students are eating or drinking and cannot wear a mask, and during activities that involve more exhalation — like singing, shouting, band practice, sports or any exercise, activities that "should be moved outdoors or to large well-ventilated spaces whenever possible."
The American Federation of Teachers had been staunchly opposed to changing the guidance. In a recent interview, Randi Weingarten, the president of the union and a close ally of President Biden, described herself as "very concerned" about the possibility that the agency might change the distancing guidance. Instead of reducing distancing, she said, districts should be finding additional space to accommodate students at six feet of distance.


Source : Nytimes