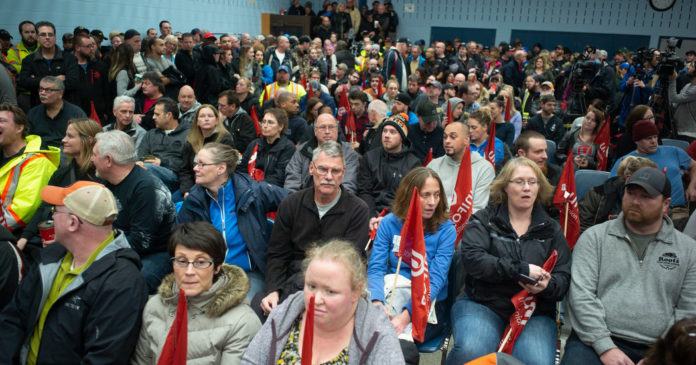 [Read: G.M. to Idle Plants and Cut Thousands of Jobs as Sales Slow]
It swiftly became clear that the plant closure was one of those economic issues that governments have little control over, other than to mitigate their consequences.
Both Prime Minister Justin Trudeau of Canada and Premier Doug Ford of Ontario have pledged to help the workers who will become jobless. But exactly what the federal government and provinces can or should do is unclear, and there are few obviously effective approaches at hand.
[Want the Canada Letter in your inbox every week? Subscribe here.]
In the past, early retirement was often a ready — and sometimes welcome — prospect to major layoffs in the auto sector. But the wave of layoffs that followed G.M.'s bankruptcy a decade ago means a majority of workers at the company today are nowhere near retirement age, according to Unifor, the workers' union.
Retraining has already been raised. General Motors said on Thursday that it will set up a program with schools in Oshawa to turn assembly line workers into mechanics for car dealerships. But while there is certainly a shortage of qualified mechanics, it seems unlikely that dealerships will need more than 2,500 of them.
"I think we have to view with suspicion plans to retrain employees, because we've heard that story before," Scott Aquanno, a political scientist at the University of Ontario Institute of Technology, who has studied previous G.M. layoffs, told me. "The opportunities for high-paying jobs are slim."
And while Oshawa, like many Canadian cities, is trying to turn itself into a hub for technology industries, Mr. Aquanno said even if that effort is successful, it's unlikely to help many G.M. workers.
Beyond retraining, Mr. Ford has asked Mr. Trudeau to extend federal jobless benefits by five weeks: a measure likely welcomed by workers, but well short of a solution.
The Oshawa shutdown doesn't necessarily mean that Canada's auto industry as a whole is doomed — at least, not immediately. There was relatively little attention paid earlier this year when Toyota announced it would spend 1.4 billion Canadian dollars (including 200 million in government money) to add hybrid versions of its best-selling RAV4 compact sport vehicle to its factory in Woodstock, Ontario.
But Toyota's Woodstock plant, which opened 10 years ago, is the last new car factory Canada has seen. Since then, all new plants from carmakers around the world intended mainly to serve the North American market have popped up in the United States or Mexico.
The closing of Oshawa's plant, expected to happen roughly a year from now, will be a drag on the city's economy, and painful for the many people who work there. The challenge facing Mr. Ford and Mr. Trudeau until the closing is to make sure those people aren't left behind.
Award Winners
Esi Edugyan, who lives in Victoria, recently won her second Giller Prize for her latest novel, "Washington Black." This week, the editors at The Times Book Review declared it one of the 10 Best Books of 2018, describing it as "a wondrous tale of exploration and discovery."
[Read: The 10 Best Books of 2018]
After you check out the full list, listen to this podcast by the editors discussing the books that made the cut.
Also this week, Margaret Atwood announced she's penning a sequel to her award-winning novel, "The Handmaid's Tale" — an idea she had previously rejected.
[Read: Margaret Atwood Will Write a Sequel to 'The Handmaid's Tale']
Trans Canada
—The scene was a bit strained on Friday when leaders gathered for a ceremonial signing of the trade deal to succeed Nafta.
—Birks, the jeweler that's been a staple of Canadian wedding registries for decades, has a high-profile royal customer.
—After seven months in airport limbo, a Syrian refugee has made it to Canada.
—Whistler, British Columbia, is home to a camp where women can improve their skiing without any danger of mansplaining.
—An idyllic setting in the Yukon became the scene of almost unspeakable horror this week after a fatal bear mauling.
—And our guide to Netflix in Canada for the month of December is refreshingly free of holiday tropes.


Source : Nytimes