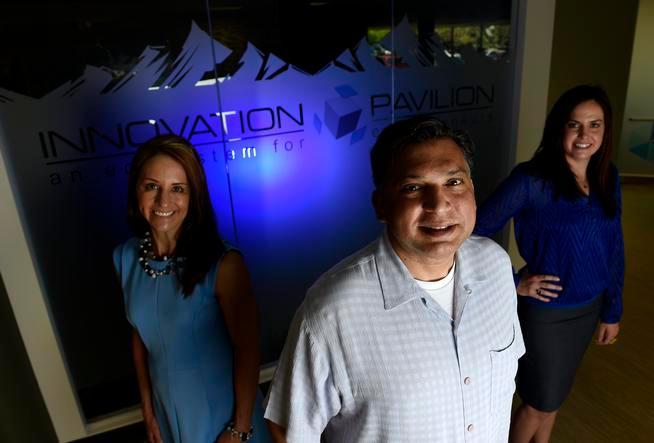 Vic Ahmed, founder of the Innovation Pavilion in Centennial, stepped down as CEO late Thursday after a lawsuit filed by a former employee accused him of sexual assault.
Ahmed called the relationships with more than one coworker "consensual" but unprofessional. He called the accusations "categorically false" and will fight the lawsuit.
"This, I know now, can in no circumstances be considered appropriate. Even though it does not cross any legal boundaries, I regret it," Ahmed wrote in a prepared statement. "I should know better and more importantly, I should act better. I have disappointed myself and those associated with me personally and professionally. I am deeply sorry and I apologize."
Ahmed started the suburban coworking space in 2011 and created an entrepreneurial community where startups rented office space and attended business events. One focus was on internet of things technology, which Suzy Gutierrez helped launch in June 2015. She loved her job. But two years later, Gutierrez said she found herself constantly fending off Ahmed's sexual advances and quit after a business trip to Atlanta.
In Atlanta, Gutierrez said she woke up in her hotel room naked and, "The only thing she knew for sure was that her boss had taken physical advantage of her while she was unconscious," said the lawsuit. Gutierrez is claiming assault, battery, false imprisonment and outrageous conduct against Ahmed and negligent supervision and retention against Innovation Pavilion. She is seeking financial compensation and appropriate equitable relief.
Ahmed, in his statement, said that he had to speak.
"The civil charges that have been brought against me that imply coercion, harassment, particularly sexual, however, are categorically false," he wrote. "…Mrs Gutierrez told me many times she loved me. At that time, I thought I did also. … I will let the courts and legal process decide what is the truth behind all these accusations."
Gutierrez said she never filed a police report because she felt it would be difficult to prove. But after learning of other victims, she said she came forward because she didn't want anyone else to be victimized. At least two other women said they were also sexually harassed or assaulted, according to the lawsuit. Nicole Regalado, in a sworn statement, said Ahmed would text her sexually explicit images and stuck his tongue down her mouth.
"Each of these women described something that was not even one bit consensual but was harassment and was actually sexual assault," said Mari Newman, a lawyer for Gutierrez. "They said 'No' and he persisted."
Kitty Kolding, who had worked with IP as a partner, was named interim CEO of the company. Other employees received promotions, including Kerianne Leffew, who becomes president.


Source : Denver Post