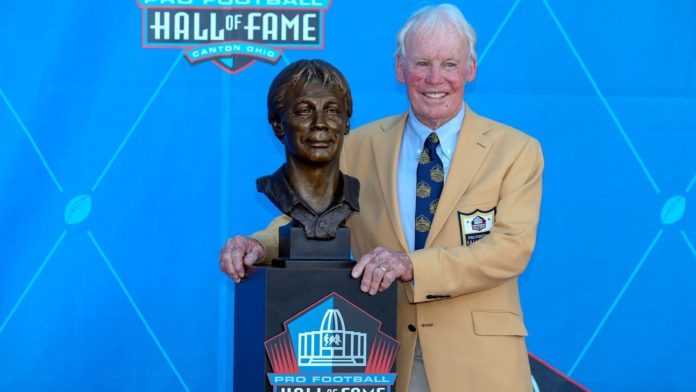 COSTA MESA, Calif. — One person who will intently watch San Francisco 49ers quarterback C.J. Beathard make his first start this season is former Los Angeles Chargers general manager Bobby Beathard.
Bobby Beathard is C.J. Beathard's grandfather, and he said he checks in with his grandson once a week.
Recently inducted into the Pro Football Hall of Fame and the Chargers Ring of Honor, Bobby Beathard expects C.J. to be prepared mentally for whatever the Chargers throw at him on Sunday.
C.J. Beathard's father is country music songwriter Casey Beathard, and his younger brother Tucker Beathard is a country music singer.
An avid surfer who used to live on the coast just north of San Diego, Bobby Beathard and his wife, Christine, now reside in Franklin, Tennessee.
"Sure, I'll watch him," Bobby Beathard said. "He's got it all together upstairs, and he's physically talented, too. When you're the backup, you push them to pay attention as if they were the starter. He's a pretty conscientious kid. I don't know if there's a time where he's not paying attention because he wants to start — that's just his nature. So I'm sure he has the confidence to go in there and be successful."
C.J. Beathard's been thrust into the starting role for the 49ers this week after starter Jimmy Garoppolo suffered a torn ACL in his left knee at the end of last week's loss against the Kansas City Chiefs. The injury will keep Garoppolo out for the rest of the season.
A third-round draft pick out of Iowa in 2017, Beathard completed 55 percent of his passes in 2017, throwing for 1,430 passing yards with four touchdowns and six interceptions. He was sacked 19 times, posting a 69.2 passer rating.
Known for his ability to run, Beathard also finished with 136 rushing yards and three touchdowns on the ground.
Chargers slot defender Desmond King was a teammate of Beathard's at Iowa, and he played against him during the final preseason game against San Francisco a year ago, when Beathard scorched the Chargers' defense on a 62-yard run for a score.
So King is aware of Beathard's physical tools.
"He's a very competitive guy for sure," King said. "A team leader, and cool person to hang around with. Our lockers were pretty much right next to each other [at Iowa] — I can definitely say he's a good person overall.
"And he can run. I mean he broke out on a long run against us for a touchdown [last season]. We just have got to be aware of that."
Before Garoppolo mania struck the Bay Area, Beathard served as the starting quarterback for the 49ers last season.
• Why Bradford didn't work out as Cards QB
• Inside the half-$1B Vikings-Rams game
• Patriots aren't talking about Josh Gordon
• 'Mullet power' fuels Tyler Eifert
• Dream come true about Cam Newton
• Baker Mayfield's confidence is soaring
And while the 49ers were 1-4 with Beathard as the team's starter in 2017, San Francisco coach Kyle Shanahan said that time under center helped the second-year pro earn his trust.
"I have a lot of confidence in C.J.," Shanahan told reporters this week. "I think C.J. got a lot of experience last year. We liked him a lot coming out of college. He got a lot experience last year, being thrown into a tough situation as I could imagine putting a rookie quarterback in, and the guy didn't blink.
"He had a lot of ups and downs through his time playing. … C.J. is as tough and fearless as any quarterback I've ever been around. He's got the arm talent to make every throw. He's extremely smart, and I know he's the type of guy that our team believes in."
Chargers coach Anthony Lynn said that with Los Angeles Rams head coach Sean McVay and Shanahan coming from the same West Coast-scheme coaching tree, the Chargers could see similar plays to what the Rams ran last week. So the Chargers have to watch for bootlegs, play-action passes and run-pass options.
"I'm sure he's learned from his rookie season," Lynn said. "They took him in the third round for a reason. He'll move around a little bit. They do more things with him as far as quarterback-driven runs and things like that. So I believe he can function well within that offense."


Source : ESPN