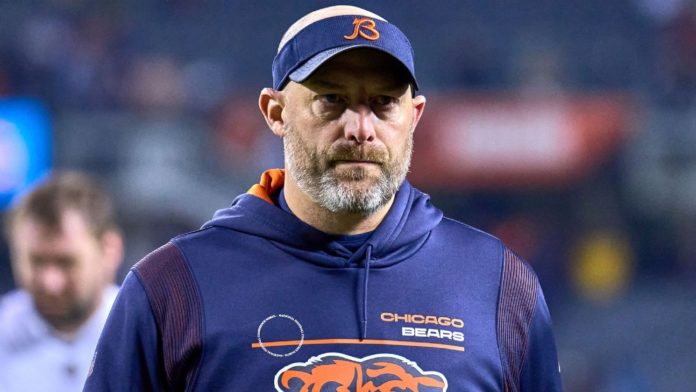 The Chicago Bears fired coach Matt Nagy and GM Ryan Pace on Monday after the team finished with a 6-11 record this season, a source told ESPN's Adam Schefter.
Nagy was named NFL Coach of the Year after his first season in 2018, when he led the Bears to a 12-4 record and reached the playoffs for the first time in eight years. He earned praise that season for his offensive wrinkles and humble disposition, but the Bears couldn't sustain that success over the ensuing three seasons.
They finished 8-8 in 2019 and then again in 2020, when the league's expanded playoff field put them into the wild-card round. Nagy was never able to duplicate his first season, in part because the quarterback he inherited — Mitchell Trubisky, the No. 2 overall pick of the 2017 draft — never made the necessary improvement.
Trubisky departed via free agency last spring, after the Bears traded up to draft quarterback Justin Fields. The Bears were 2-8 in Fields' 10 starts, and he finished the season ranked last in the league in Total Quarterback Rating (26.0). In four seasons, the Bears were 34-31 under Nagy in the regular season and 0-2 in the playoffs.
Monday's news has been brewing since the end of November, when a local report emerged that Nagy would be fired after the Bears' Thanksgiving Day game at the Detroit Lions. Nagy said at the time that he was unaware of his impending firing, but no member of the Bears' front office or ownership immediately stepped forward to publicly deny the report.
A day later, owner George McCaskey told players during a team meeting that Nagy would not be fired after the game. The Bears beat the Lions 16-14, but it was their only win amid a 1-8 streak that ran from Weeks 6-15.
Nagy, 43, came to the Bears after eight years working for longtime head coach Andy Reid, including five with the Kansas City Chiefs and three more with the Philadelphia Eagles. Reid promoted him to offensive coordinator in 2017, one year before the Bears hired him.
Pace spent seven seasons with the Bears, hiring two coaches and trading up to draft two quarterbacks during his tenure. His teams made two playoff appearances but did not win a game. The Bears last won a playoff game in 2010 and are 1-3 in the postseason since appearing in Super Bowl XLI after the 2007 season.
Nagy was the second coach Pace hired. Predecessor John Fox spent three seasons with the team as it transitioned away from quarterback Jay Cutler. Pace proved to be an aggressive trader, acquiring pass-rusher Khalil Mack in 2018 in addition to making deals to draft Trubisky and Fields.
But those deals continued a trend of giving up first-round picks that had begun with the Bears' deal to acquire Cutler in 2009. The organization traded away its first-round picks in 2009, 2010, 2019 and 2020 and do not have one for 2022, either. Of the four first-round picks that Pace did make in his tenure — receiver Kevin White (2015), linebacker Leonard Floyd (2016), Trubisky, linebacker Roquan Smith (2018) and Fields — only Smith has proved a long-term answer.
Pace did have some success in free agency, hitting on receiver Allen Robinson II and defensive tackle Akiem Hicks, among others, and he also drafted impressive receiver Darnell Mooney. But it was not enough to make the Bears annual playoff contenders.


Source : ESPN