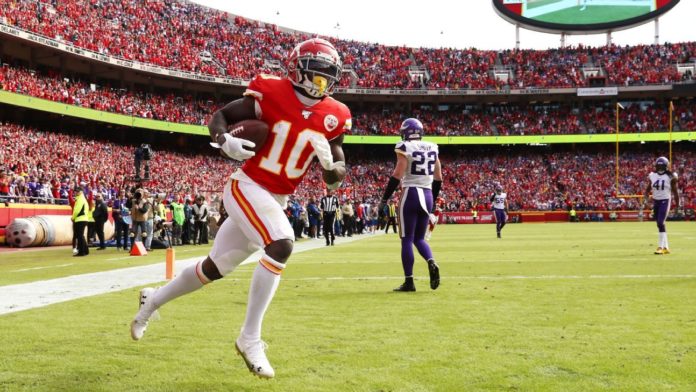 KANSAS CITY, Mo. — Chiefs coach Andy Reid said Monday he is optimistic that injured wide receiver Tyreek Hill will be able to play in Sunday's game against the Oakland Raiders at Arrowhead Stadium.
"I think he'll be all right," Reid said of Hill, who strained his hamstring in the Chiefs' game last Monday night against the Los Angeles Chargers. "We'll see how it goes. Listen, I'm optimistic. I know he loves to play the game."
Reid said Hill spent some time working with athletic trainer Rick Burkholder at the Chiefs' practice facility last week while his teammates were off because of the bye.
Hill left the Chargers game early. He initially retreated to the locker room to be examined, then returned to the sideline, where he watched the rest of the game. At the time, he sat with the other receivers and wore his helmet, giving an indication that he could possibly return to play. He didn't.
The Chiefs (7-4) are in first place in the AFC West but will be trying to hold off the second-place Raiders (6-5) on Sunday.


Source : ESPN