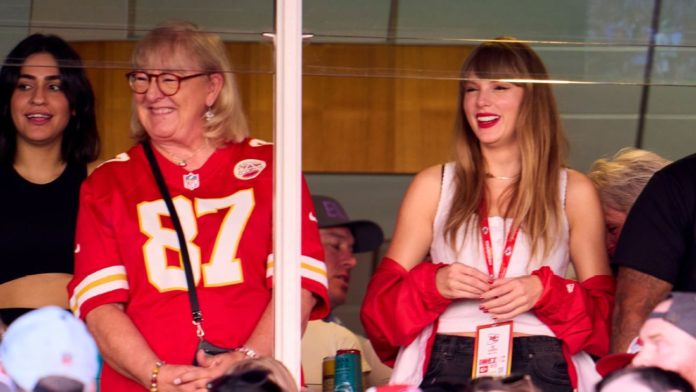 Saying he "sure as hell enjoyed this weekend," Kansas City Chiefs tight end Travis Kelce addressed Taylor Swift's attendance at Sunday's win over the Chicago Bears while adding he wanted to respect their privacy.
Kelce talked about the Chiefs' win on his "New Heights with Jason and Travis Kelce" podcast, which published Wednesday morning. Swift attended the game at Arrowhead Stadium and was sitting in a suite next to Kelce's mother, Donna. Kelce and Swift were also seen leaving the stadium together after the game.
"I just thought it was awesome how everybody in the suite had nothing but great things to say about her," Kelce said. "… She looked amazing. Everybody was talking about her in a great light. And on top of that, the day went perfect for Chiefs fans."
Kelce joked that Swift's attendance has made his personal life "not so personal" but did not specifically say whether the two were in a relationship, noting that Swift is more private and does less media appearances than he does. He acknowledged seeing paparazzi outside his house recently as rumors have swirled around their connection.
"I know I brought all this attention to me," he said. "… What's real is that, you know, it is my personal life. I want to respect both of our lives."
Swift's attendance appears to have brought a new segment of fans to the Chiefs. Sunday's broadcast ratings showed significant improvement in one demographic, as female viewers age 12-17 were up nearly 8% from a year ago. The broadcast also led in female viewership in every major demographic.
Kelce also received a boost. A spokesperson for sportswear and fan merchandise company Fanatics told The Associated Press on Tuesday that Kelce's jersey sales had spiked more than 400%.
"Sounds like the Swifties are also part of Chiefs Kingdom," Kelce joked.
As the buzz around the star singer and the star tight end continues to grow, Kelce said he appreciated getting to look back at all the viral moments of Swift cheering him and the Chiefs on.
"To see the slow-motion chest bumps, to see the high-fives with Mom, to see how Chiefs Kingdom was all excited that she was there — that s— was absolutely hysterical," Kelce said. "It's definitely a game I'll remember, that's for damn sure."
The Chiefs next play at the New York Jets on "Sunday Night Football."




Source : ESPN