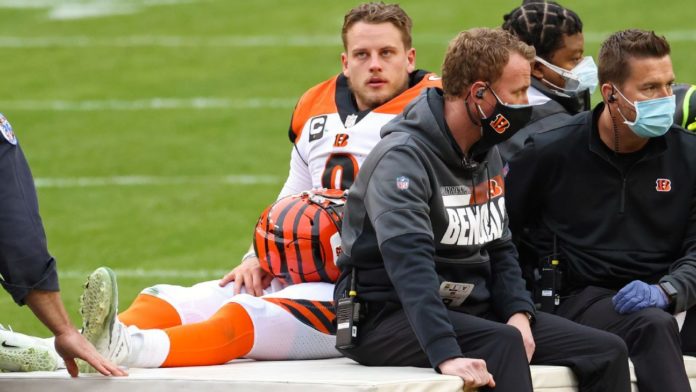 One of the most promising NFL seasons by a rookie quarterback came to an end Sunday. Cincinnati Bengals quarterback Joe Burrow effectively ruled himself out for the remainder of the 2020 season after he was carted off the field in Sunday's 20-9 loss to the Washington Football Team at FedEx Field.
Burrow suffered a left leg injury in the third quarter after he was sandwiched by two Washington defenders who converged on him on a third-and-2 pass attempt.
On Sunday afternoon, Burrow sent out a tweet thanking people for support and suggesting he was done in 2020. "Thanks for all the love," Burrow said. "Can't get rid of me that easy. See ya next year."
Bengals coach Zac Taylor did not have any immediate updates after a loss that stifled a group that looked promising with Burrow behind center. "He was making improvements every week and we were getting the offense headed in a direction that we thought was exciting," Taylor said.
The first overall pick in the 2020 draft was on pace to become the first rookie in league history to have six 300-yard passing games in his first 10 appearances. Instead, the future of Burrow's rookie season is now in question. Burrow was 22-of-34 for 203 yards, one touchdown and one lost fumble before he went down in the third quarter.
After he threw a pass intended for Bengals receiver Tyler Boyd, Washington defensive linemen Jonathan Allen and Montez Sweat hit Burrow from opposite sides. Allen beat a block on Burrow's left, while Allen came off the right edge. Almost immediately, Burrow clutched his left leg as Taylor went out to check on the franchise's star quarterback.
As Burrow was being carted off, the entire Bengals sideline approached the quarterback to encourage him. Well-wishers also included Washington's Chase Young, Terry McLaurin and Dwayne Haskins, who all played with Burrow at Ohio State before he transferred to LSU and eventually led the Tigers to a national title.
"I was going and all I heard was the yelling," Young said after the game. "He held his knee. You never want to see that. I was hurting, man. I was hurting because I know Joe. I wanted to keep playing against Joe. You just never want to see that happen to anybody."
Burrow was quickly ruled out of the game and replaced by second-year quarterback Ryan Finley.
Finley struggled in relief and was 3-of-10 passing for 30 yards and an interception on the Bengals' last drive of the game. The 2019 fourth-round pick admitted the team was "a little shook" after Burrow was carted off the field. Finley said he sat with Burrow for a few minutes after the injury and was all but rendered speechless.
"I didn't really have many words," Finley said. "I didn't know what to say other than I hope he recovers very soon, because he's a hell of a player. It's been a lot of fun watching fun this first half of the season."
Cincinnati had hoped Burrow was the franchise's next cornerstone quarterback when the Bengals selected the southeast Ohio product with the top overall pick in April's draft. Almost as soon as Burrow officially arrived in Cincinnati, it was clear he was going to be the team's Week 1 starter as a rookie. The Bengals released veteran Andy Dalton, the team's second-round pick in the 2011 draft, and didn't add another veteran quarterback to the 53-man roster.
In his first 10 games, the rookie showed why he represents so much hope for a franchise that hasn't won a playoff game since January 1991. According to ESPN Stats & Information research, Burrow ranks fourth in NFL history for the most passing yards in a player's first 10 games (2,688 yards, including his total from Sunday's game). At the halfway mark of the season, Burrow was on pace to break Andrew Luck's record for most passing yards as a rookie (4,374).
Cincinnati's ability to protect Burrow was one of the biggest questions entering the 2020 season. Entering Sunday, Cincinnati ranked 28th in the NFL in pass block win rate, an ESPN metric powered by NFL Next Gen Stats.
Taylor defended the unit when asked if he believed the team could have done more to protect Burrow. The second-year coach said the offensive line had done a great job in recent weeks in keeping defenders away from the quarterback and noted that the hit came after Burrow threw the ball.
"We felt like we were making a lot of progress over the last five weeks and we're not going to apologize for any of that," Taylor said.
If Burrow is out for an extended period of time, it will delay Cincinnati's rebuilding project that is centered on the franchise quarterback. He could also become the first top overall pick to suffer a serious injury in his rookie season since Jadeveon Clowney, who played four games in 2014 before he had microfracture surgery to repair an injured right knee.




Source : ESPN