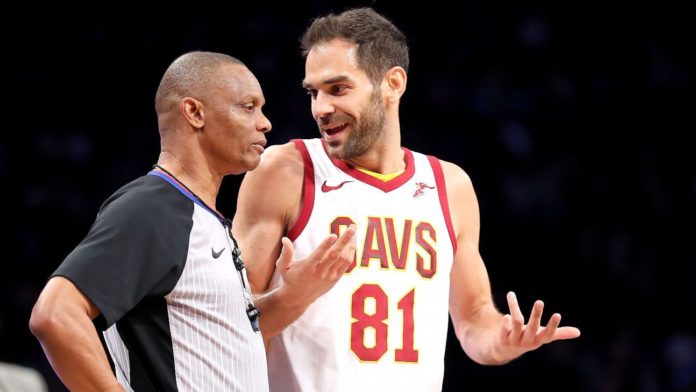 Although he was traded to the Los Angeles Lakers in February, Channing Frye's impact on the Cleveland Cavaliers can still be felt, in the form of one of the team's most cherished inside jokes.
The Cavs think Jose Calderon is a billionaire.
Frye, who even by NBA player standards spends an inordinate amount of time on his phone scrolling through social media, came across an unexpected Google search result. Cleveland's 36-year-old backup point guard was listed as the heir to a $2.2 billion fortune, thanks to his father's stake in a Coca-Cola bottling company named FEMSA.
It didn't take long for Frye's discovery to spread throughout the team. And the Cavs shared the story far better than they were sharing the basketball on the court during their early-season doldrums.
"Everybody was talking about that," Cavs rookie Cedi Osman said. "Everybody. EVERYBODY. He makes a play and it's like, 'Nice job, man … $2.2 billion … that's great.'"
The NBA is one of those rare businesses where everybody knows how much their co-workers make, down to the last dollar and cent. Add in the competitive nature of the entire operation, with players trying to brand themselves in order to maximize earnings through their side hustles, and it's only natural to think that a 13-year journeyman like Calderon having outlier affluence like that would breed fascination.
The problem is, it's not true.
"It's not," Calderon said. "I wish. I wish I could say, 'Yeah, it is true. …' But, no, no, no. No, it's not."
The actual billionaires are brothers named Jose and Francisco Jose Calderon Rojas. They are Mexican. Calderon is Spanish.
Kevin Love once shot down a trade rumor by quoting Winston Churchill's maxim: "A lie gets halfway around the world before the truth has a chance to put his pants on."
This lie just made it halfway around the league.
"We played the Knicks, and I'm walking on the court, and Courtney Lee goes to Jarrett Jack and says, 'Hey! J.J.! Ask him! You got to ask him!'" Calderon said.
"I'm like, 'What's going on, J.J.?'
"He's like, 'It's true. Everybody's been talking. It's true. The $2.2 billion. It's true.'
"I'm like, 'No. It's not true.'"
Despite Calderon's protests, the Cavs aren't giving up on the idea that he's loaded.
"It's an ongoing joke with our team. We don't know if it's a joke or not, though," LeBron James told ESPN with a sly smile. "Channing made him pay for a dinner. The check came and he said, 'Give it to the billionaire.' So, yeah. We know about it."
What Calderon doesn't know is how someone else's wealth could be attributed to him.
"I don't have family in Mexico," he said. "Nothing. I'm just from Spain. It's a totally different guy. But the weird part is like, everything else [in the Google search] is true. It's got my wife's name. I got three boys. I've played here and there. So, everything they talk about is true, but the wealth? No. No. Not true."
---
Brian Warner is the owner and general manager of CelebrityNetWorth.com, a site founded in 2008 that tracks and estimates the net worth of celebrities using publicly available information, salaries, real estate transactions and tips from users to give people a sense of just how lavish the haves have it.
"Google has these one-boxes that are pulling data from a number of other sources, and we are one of them, Forbes is one of them," Warner said.
A one-box is a quick-hitting summary of information that appears atop Google's search results, sharing basic data about a subject without the need to click any of the links returned by the search.
"Unfortunately, it's not a very smart system, in my opinion," Warner said. "It sort of just pulls information in blindly and isn't able to, for example, tell the difference between an NBA player named Jose Calderon and a Mexican billionaire named Jose Calderon Rojas. So, the wires get crossed and this stuff happens all the time."
The error by the world's largest search engine, which has since been corrected, sent a sudden surge of Calderon-related queries to his site.
"A huge spike," Warner said. "We got emails about it, too. We got a bunch of angry emails from people saying, 'You need to fix Jose Calderon's net worth. You're idiots. Check your math.'"
When Calderon's faux fortune went viral earlier this month, more than 10,000 searches for his name were made on CelebrityNetWorth on a single day, temporarily making Jose Calderon Rojas one of the 10-most-viewed profiles on the site.
It's not the first time Warner has seen something like this happen.
"You can Google a dozen examples where they are scraping in really bad stuff that's offensive, highly inaccurate," he said. "We're not perfect, but we're not mislabeling a basketball player as a Mexican billionaire."
---
Calderon, who's made north of $84 million in NBA salary alone, according to BasketballReference.com does have a notable outside investment that has added to the mystery surrounding his billionaire status: He is the co-owner of an organic pig farm in Spain.
When Cleveland played his former team, the Toronto Raptors, in the Eastern Conference semifinals, the subject of Calderon's deep pockets came up on the Raptors' group text, and Kyle Lowry, sources said, argued that the billions must be coming from the bacon.
That same skepticism still exists among the Cavs.
"I straight up asked him," Jeff Green said. "And did he give me a straight response? No. Do I believe that he is? Maybe. I don't know."
During a recent playoff game, Calderon, Osman and Larry Nance Jr. were all standing up from their seats at the end of the bench, watching the action unfold, when Nance noticed how close he was to stepping onto the court.
"If you step on the floor, you're going to get a fine," Osman said. "I was like, 'Hey, push Jose [on the floor].' [Nance] was like, 'Man, he's a billionaire. It's not going to be nothing for him.'"
---
Cavs fans weren't expecting much of anything from Calderon when Cleveland rushed to sign him at the outset of free agency last July. Sports Illustrated went so far as to write, "If there's been one truly awful free-agent signing so far, it's been the Cavs picking up Jose Calderon to be their backup point guard."
Koby Altman, acting as the team's interim general manager at the time after the dismissal of David Griffin, didn't see it that way.
The Cavs' 2016-17 season was compromised from the start when backup point guard Mo Williams elected to get surgery at the start of training camp, rather than report to the team. Without Williams, Cleveland struggled to fill the vital role all season. Deron Williams was signed to be that guy for the playoff run but shot just 2-for-16 in the five-game loss to the Golden State Warriors in the Finals.
Before choosing Williams, however, the team seriously considered Calderon, who was on the market after being bought out by the Los Angeles Lakers.
"We thought he had a lot left," Altman said. "We did a lot of background on him and just knew what kind of person he was."
Jose Calderon uses a ball fake that sends Bojan Bogdanovic to the court and then finds Kyle Korver for a 3-pointer.
Calderon's averages of 4.5 points on 50.3 percent shooting (46.4 percent from 3) and 2.1 assists per game during the regular season were modest, but Cleveland played well when he was called on, going 23-9 when he started.
Then in the playoffs, when George Hill was suffering from back spasms, he stepped in to start again, and the Cavs went 2-1 in the three games where he manned the position in the first round against the Indiana Pacers.
His numbers in the postseason haven't wowed — 2.5 points and 0.6 assists per game — but Calderon made one memorable contribution in the Cavs' 98-95 Game 5 win over the Pacers when he won a crucial second-half jump ball over Bojan Bogdanovic, a player who is five inches taller, 30 pounds heavier and seven years younger than he is.
"I knew I was going to win it," Calderon says. "Even my teammates were talking about going here and there [on the court], trying to get position for his tip because he was going to win it. I was like, 'No. Bro, bro, I can get it. I can get it.' I still can jump. So I was so ready for it, and so happy."
---
The story about Calderon's Google goldmine has sparked an existential conversation among some of his teammates: Would they want to keep playing if money wasn't part of the motivation?
"We joke about it because the lottery is what it is," Green said. "You joke [about hitting the Powerball], and now you're a billionaire, would you continue to play? I've had that conversation with a lot of teammates throughout my career. And my answer is always, 'Yes.'
"And then when that came up, if he's a billionaire, I guess there is my answer. If you love the game that much, you want to continue to play, even if it's just as a hobby to him. If that is true, then respect to him. We'll never know the answer. But I hope it is true."
Complete coverage | Expert picks | Bracket
• ESPN Forecast: Who makes, wins Finals?
• Is Brad Stevens more valuable than a star?
• Rockets defy critics and stick to the plan
• Cavs fighting Celtics, organizational fatigue
• How Rockets built team to contend with GSW
• Celtics have a special brand of toughness
• Is LeBron catching Jordan for GOAT status?
• NBA offseason guides for eliminated teams
• Tickets on Vivid Seats
CelebrityNetWorth estimates James' bounty to be in the $400 million range, a number that will only grow as he continues to cash in on the billion-dollar lifetime Nike deal he signed in 2015.
"I'm doing OK for myself," James said, when his earnings are brought up in relation to Calderon's. "But listen, I heard what he has going on, so there will be some conversations."
Maybe it's more fun if the mystery remains.
But here's another clue that should put the rumor to rest: Calderon doesn't even drink Coca-Cola.
At least so he says.
And come to think of it, Frye didn't last too much longer with the Cavs once that story got out.


Source : ESPN