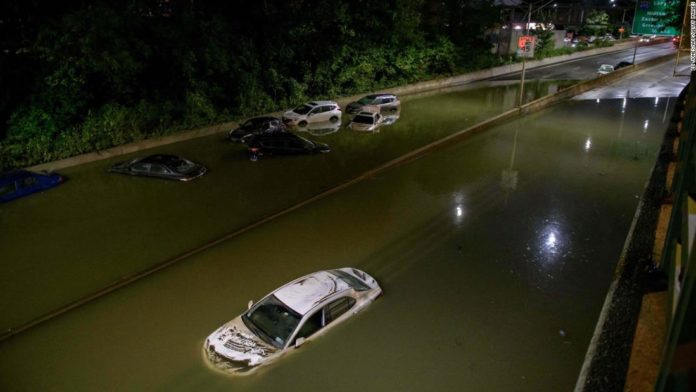 This is the point in the news cycle when I would normally be called upon to explain why, in a warmer climate, hurricanes and heavy rain events get more extreme.
I can't do it. Not today. At this dystopian moment, I'm just not feeling it, and I don't think I'm alone. I have many friends and colleagues who study extreme weather, in academia, government and the private sector. I think I can speak for many of us when I say we're stunned.
You're almost certainly aware, if you're reading this, that climate scientists have been warning for years that human-induced global warming will bring us a future of these faster and more furious extreme weather events. When asked, we try to explain to what extent they are representative of those trends, vs. accidents of nature. Of course, they're generally both at the same time, to varying degrees, and in my answers, I try to capture the nuances of that tension.
But now the events are coming with such speed and ferocity that those nuances seem pointless.
With this retrograde faction as powerful as it is in our national politics, we're supposed to solve the climate problem?
In the big picture, the climate problem is, in principle, solvable. With existing technology and resources, and sufficient collective effort and political will, we, the human species, have what it takes to modify our energy system to minimize future warming and adapt to protect those most vulnerable from what can't be prevented.
But many among us, including those in positions of great power, don't want to do those things — or even things that would seem much more personally immediate, like encouraging vaccination against Covid-19. Trying to convince them feels pretty hopeless. It seems that part of the reason they don't want to support scientifically proven measures is because those of us they dislike say they should, or would share in the benefits.
Solving the climate problem requires not just trust in science, but shared values and a will to collective action for the common good. These are all in short supply. That scares me, way more than the carbon dioxide in the atmosphere does.
There's no benefit in giving in to "doomism," either about climate, per se, or politics. The only rational response is to do what we can do, within the boundaries our individual and collective circumstances impose upon us, to make positive change.
Speak out, organize, give money, vote.
Let's all get to it, however we can.
But on days like this, it's hard.


Source : Nbcnewyork