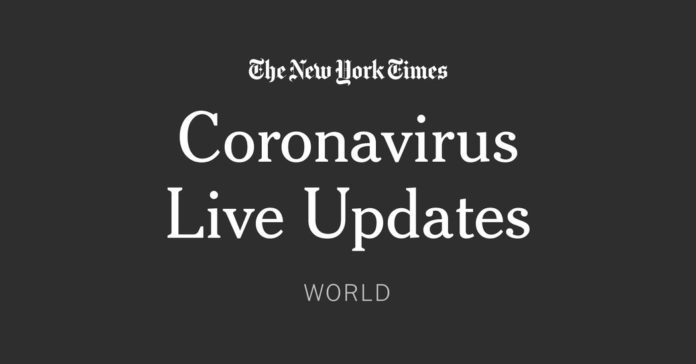 The Turkish government orders millions to stay home in sudden lockdown.
The Turkish authorities on Friday ordered a two-day lockdown on just hours notice for 31 provinces across the country, as Turkey's death toll from the coronavirus pandemic climbed above 1,000.
Istanbul and Ankara, where international flights were halted and schools and bars were closed, were covered in the order.
"We urge all citizens who live in these 31 provinces to comply with this weekend's lockdown without panicking," Fahrettin Altun, the country's communications director, said on Twitter.
Mr. Altun asked people to maintain their social distance in the short time before the lockdown went into effect. Soon after the news was announced, people rushed to shop for essentials in Istanbul, a city of 16 million people, the Reuters news agency reported.
Video posted to Twitter showed the chaos as scores of densely packed people, some without masks, jostled to enter a store.
The Interior Ministry said in a statement that bakeries, pharmacies and health facilities would be allowed to operate during the lockdown. Other businesses exempt from the lockdown included certain energy companies, distribution firms and some gas stations.
The number of confirmed cases of Covid-19 had increased by 4,747 and 98 people died in the last 24 hours, raising the death toll to 1,006, Health Minister Fahrettin Koca said.
In one of the most far-ranging attempts to halt the spread of the coronavirus, Apple and Google said they were building software into smartphones that would tell people if they were recently in contact with someone who was infected with it.
The technology giants said they were teaming up to release the tool within several months, building it into the operating systems of the billions of iPhones and Android devices around the world. That would enable the smartphones to constantly log other devices they come near, enabling what is known as "contact tracing" of the disease. People would opt in to use the tool and voluntarily report if they became infected.
The unlikely partnership between Google and Apple, fierce rivals who rarely pass up an opportunity to criticize each other, underscores the seriousness of the health crisis and the power of the two companies whose software runs almost every smartphone in the world. Apple and Google said their joint effort came together in just the past two weeks.
Public-health authorities have said that improved tracking of infected people and their contacts could slow the pandemic. Such measures have been effective in places like South Korea that also conducted mass virus testing.
Yet two of the world's largest tech companies harnessing virtually all of the smartphones on the planet to trace people's connections raises questions about the reach these behemoths have into individuals' lives and society.
"It could be a useful tool, but it raises privacy issues," said Dr. Mike Reid, an assistant professor of medicine and infectious diseases at the University of California, San Francisco, who is helping San Francisco officials with contact tracing. "It's not going to be the sole solution, but as part of a robust sophisticated response, it has a role to play."
Residents of Seine-Saint-Denis, France's poorest department, did not have the luxury to relocate to the countryside when the French government announced strict confinement rules on March 16. Since then, families have been packed into apartments, forced to wait it out.
The combination of cramped quarters, acute economic stress and tough policing has made Paris's poorer suburbs a center of tension during the pandemic. France reported over 13,000 deaths and over 100,000 test-confirmed cases on Friday.
Relations between residents and the police, with their undercurrent of racial discrimination, are often fraught even in the best of times. Residents have repeatedly compared the confinement rules to conditions in a prison, and they say that the police are taking advantage of their mandate to keep the streets clear by harassing and beating youths. Some are warning that the pressures are ripe to explode.
"We've got a lot of young people in big families, shut up in tiny apartments, and it's difficult to close them up like that," said Bilal Chikri, a filmmaker who lives in the neighborhood.
Outside the apartment blocks, small groups have begun to gather mostly at bus stops while wide streets are largely quiet.
Overall, people are respecting the confinement rules, said Hamza Esmili, a sociologist who has studied the Paris suburbs. "There isn't a sort of collective indiscipline about it."
But the illness has a potential to continue spreading, he said. The danger doesn't come from people congregating outside, but from the cramped apartments where extended families are packed.
For many New Yorkers, living amid the coronavirus pandemic will be defined by two sounds: ambulances sirens and the nightly 7 o'clock cheer for front-line workers, grocery clerks and delivery riders.
The collective cheering ritual started in Wuhan, China in January and spread across the globe in the virus's wake. In America's largest city, the applause is sometimes accompanied by the song "New York, New York," and it gives people a way to connect from across terraces and fire escapes.
Here's what else is happening in the United States:
The U.S. death toll surpassed that of Spain, with almost 18,400 fatalities related to the virus reported, as the total caseload approached 500,000.

Government projections, obtained by The New York Times, found that without any mitigation, the death toll from the virus could have reached 300,000 — and that it could reach 200,000 if the Trump administration lifts 30-day stay-at-home orders.

Citing the virus, the administration announced that it would issue visa penalties on countries that refuse to accept people the U.S. aims to deport.
Singapore has suspended the use of videoconferencing service Zoom by teachers following reports that two men made lewd comments and showed obscene images during a geography class for teenagers.
As Zoom becomes a staple of life during the pandemic, the company is scrambling to deal with a rise in trolling, graphic content and harassment by uninvited participants. Germany and Taiwan have already placed restrictions on its use, while Google has banned it from employees' laptops.
Singapore's Education Ministry said, without elaborating, that it was investigating what it called "very serious incidents" on the platform, news outlets reported on Friday. The city-state's schools had closed this week and moved to home-based learning in an effort to curb coronavirus infections.
"As a precautionary measure, our teachers will suspend their use of Zoom until these security issues are ironed out," Aaron Loh, an official in the ministry's technology division, told reporters. The ministry did not immediately respond to a request for comment on Saturday.
A surge in coronavirus cases has pushed Moscow's health care system to its limit long before the outbreak's peak, the city's authorities warned on Friday.
The number of people hospitalized in Moscow with Covid-19, the disease caused by the virus, more than doubled in the past week, a deputy mayor said. Two-thirds of the country's 12,000 reported infection are in Moscow, but experts say the government is hiding the true extent of the outbreak.
Moscow's mayor, Sergei Sobyanin, said the virus was "gaining momentum."
The virus has also started to wreak havoc in Russia's vast hinterland. In Ufa, 700 miles east of Moscow, medical personnel and more than a thousand patients have been ordered not to leave a hospital after 170 people there tested positive. Farther north, several hospitals in the Komi region have also been quarantined.
Anastasia Vasilieva, who leads an independent doctors' union, was detained last week after accusing officials of deliberately misclassifying Covid-19 cases as pneumonia.
The health minister, Mikhail Murashko, came close to conceding her point on state television, saying that hospitals would begin to treat pneumonia patients as coronavirus patients.
A letter to Moscow hospitals from the city government, which was leaked online, acknowledged that figures based on testing were compromised by a "very high number of false results."
Moscow last week ordered residents not to go out except to buy food or medicine, or walk their dogs near home. However, eager to avoid economic disruption, they have done little to enforce the restrictions.
President Vladimir V. Putin, who usually takes the lead with great fanfare in times of crisis, has mostly stayed in the background, retreating to his country residence and leaving Mr. Sobyanin and Prime Minister Mikhail Mishustin to address the epidemic publicly.
For some nurses, commuting to work has gotten increasingly difficult because of the pandemic. That's certainly true for Laurie Dufresne, who lives in Canada and works in the United States.
Ms. Dufresne is one of about 1,600 nurses and other health care workers who leave Windsor, Ontario, a city of 217,000, for daily work in Detroit, a metropolitan area of more than four million people.
While the infections in Windsor remain under control, Detroit, and its surrounding counties, has one of the most severe outbreaks in the United States, with 17,543 Covid-19 cases and 926 deaths. Across all of Canada, 20,748 people have been infected and 509 have died.
For many health professionals, crossing the border puts them in an uncomfortable position. Canadian officials have been blunt about the risks, and health workers have found themselves under scrutiny at home as potential vectors of the pathogen.
Officials in Windsor are facing a dilemma. "I think it is important that we do not abandon our neighbor in this difficult time," said Dr. Wajid Ahmed, the medical officer of health at the Windsor-Essex County Health Unit.
"But we also need to make sure that we are taking every step that we can to protect our community, protect our health care workers and ensure that we are reducing the risk as much as possible," he said.
Reporting was contributed by Andrew Higgins, Elaine Yu, Jason M. Bailey, Dan Bilefsky, Melissa Eddy, Ana Swanson, Adam Nossiter, Stanley Reed, Jack Nicas and Daisuke Wakabayashi, Abdi Latif Dahir and Ian Austen.




Source : Nytimes