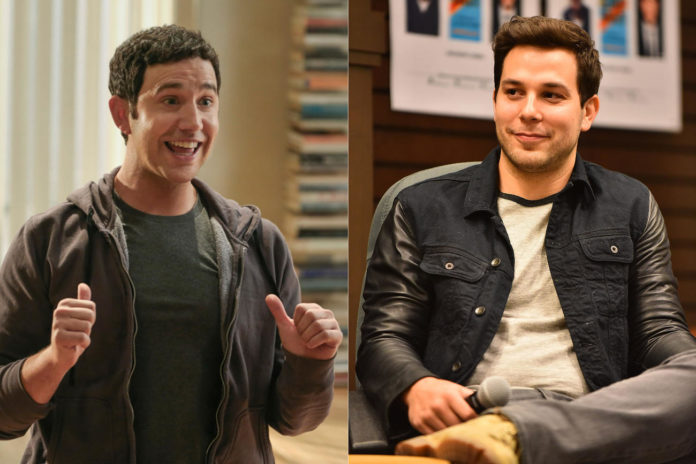 Now Playing
Crazy Ex-Girlfriend Stars Talk Greg in Season 3
Next Up
Watch Netflix's Maniac Trailer
Ahead of Crazy Ex-Girlfriend's final season, many fans have been wondering one thing: Will Greg (Santino Fontana), one of the corners in Rebecca Bunch's (Rachel Bloom) original love triangle, return to say goodbye?
Well, we've got some good news/bad news for you — or good news/good news, if you ask us!
The cast of The CW musical announced at the Television Critics Association summer press tour that yes, Greg will return for the final season! However, Santino Fontana won't be back to play the former Home Run bartender. Instead, Pitch Perfect's Skylar Astin will take on the role.
I know this is a lot to take in, but it actually makes a lot of sense when you hear showrunner Aline Brosh McKenna's explanation. When Fontana came to McKenna and Bloom after the first season and asked to leave the show over scheduling conflicts, they moved up their intended resolution for Greg and Rebecca's relationship to the beginning of the second season. But because they did such a nice job of wrapping up Greg's arc, it made it trickier to find a way to bring Greg back to West Covina in a way that felt right.
"Rachel and I had always been exploring bringing back that character and sort of trying to figure out a way of doing it that suited our show because … we felt like we completed his arc a bit," McKenna said. "Now bringing the character of Greg back, he is part of our storytelling, it's a plot point in the story that the character is reimagined so he's going to be played by a different actor, which is Skylar."
Photo: Scott Everett White/The CW, Brandon Williams/Getty Images
Because they wanted to play with the idea of how much Greg has changed over the years since he left West Covina and got sober, McKenna and Bloom didn't reach out to Fontana to ask if he would be interested in returning. They did, however, let the Broadway star know that they would be recasting the character of Greg, who, as Bloom noted, has become a bit like "lore" in the Crazy Ex fandom and universe.
"We have this really unique opportunity to bring back this almost mythic figure and look at it from a different angle," Bloom teased.
The decision to recast Greg will also open up a fun and unexpected way to play with the concept of perception, which is such a quintessential Crazy Ex-Girlfriend move that it almost feels inevitable that the show would do something like this before it wraps up.
The CW May Be Expanding, but the Network You Love Is Disappearing
"We're so excited," said Bloom. "It's not only a big leap and feels experimental and playful like our show, but as you'll see when the show airs, it will be a great statement on how our perception of people changes. And Greg is sort of a barometer for how much Rebecca has changed because she will not have seen him in two years."
Crazy Ex-Girlfriend has always been a show that has great respect for its audience, so don't worry; they're not going to pull a Becky on Roseanne and just never mention the recast as though they think you might not notice a completely different actor has taken on the part. Instead, they'll get meta and play with the idea of a TV recast in the series as well. "It is kind of a fun comment and Rebecca will notice it as a 'people in TV shows being recast [thing]' and we're going to call it out," Bloom said. "Rebecca is going to call it out and be like, 'This person's different. What the f–k?'"
Sadly, during the panel there was no mention of how many episodes Astin would appear in or how his return to West Covina would affect Rachel's already unsteady relationship with Nathaniel (Scott Michael Foster). But we would warn Greg-Rebecca shippers, before you start stitching that new needlepoint of Astin and Bloom together, don't forget that Rebecca slept with Greg's dad. Greg may be back in West Covina next season, but we still doubt he's her end game.
Crazy Ex-Girlfriend premieres Friday, Oct. 12 at 9/8c on The CW.
(Full disclosure: TV Guide is owned by CBS, one of The CW's parent companies.)




Source : TVGuide