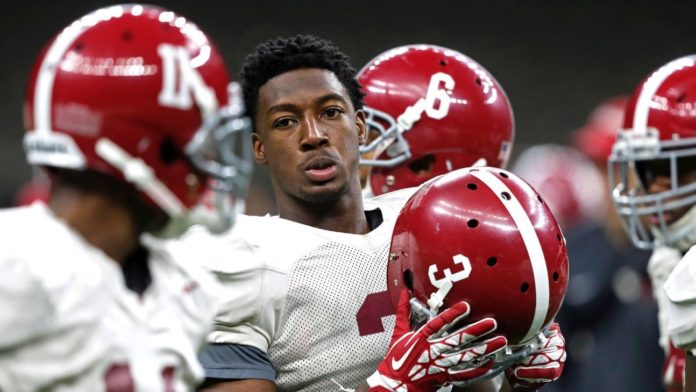 FRISCO, Texas — Now that Dez Bryant has been cut by the Dallas Cowboys, they need to add a wide receiver early in the upcoming draft either with their first-round pick, No. 19 overall, or in the second round at No. 50.
That's the conventional wisdom when looking at the depth chart and contracts of Terrance Williams, Cole Beasley, Allen Hurns and Deonte Thompson.
Of course, the Cowboys will say they have all options available to them come draft night, that they will not succumb to the pressure of drafting for need, which so many consider a no-no.
Over the past three years, a span of 38 games, Bryant averaged 50 receptions for 678 yards and 5.7 touchdowns per season. That pales in comparison to the numbers Bryant put up from 2012-14 (48 games) when he averaged 91 catches for 1,312 yards and 13.6 touchdowns per season.
Lack of production played into the Cowboys' decision to part with Bryant. He may well put up another big season but their belief is it wouldn't be with the Cowboys, either because of his declining skill or the change in offensive philosophy.
The Cowboys may be disappointed if they're looking to replace Bryant with a top draft pick. Receivers selected in the early rounds of recent drafts generally have not panned out.
There have been 13 wide receivers picked in the first round over the past three drafts. Only Amari Cooper (Oakland, fourth overall, 2015) has made a Pro Bowl. The only other first-round receiver with more than 35 catches as a rookie was Will Fuller (Houston, No. 21 overall) in 2016. None of the three wide receivers picked in the first round in 2017 — Corey Davis, Mike Williams, John Ross — had a touchdown catch last season.
Of the six wide receivers selected by the 50th overall selection between 2015 and 2017, only two have produced. Sterling Shepard (No. 40 overall in 2016) had 65 catches for 683 yards and eight touchdowns as a rookie for the New York Giants. The New Orleans Saints took Michael Thomas with the No. 47 overall pick, and he caught 92 passes for 1,137 yards and nine touchdowns.
The lack of productivity can be traced to injury, slow development, poor quarterback play or just a bad selection.
In this Monday Morning Quarterback story, longtime wide receiver Ricky Proehl wondered if there is a crisis at the position at the collegiate level. Proehl argued receivers are coming to the NFL less prepared than in the past.
The Cowboys had visits from the top two receivers available in the draft — Alabama's Calvin Ridley and Maryland's D.J. Moore. They also had Oklahoma State's James Washington and Florida's Antonio Callaway in for visits as potential options after the first round. Jason Garrett put Courtland Sutton through drills at SMU's pro day. Last week they worked out LSU's D.J. Chark. They also worked out Texas A&M's Christian Kirk.
Ridley has the speed the Cowboys want to scare defenses and had 63 catches for 967 yards and five touchdowns last season at Alabama while working in a pro-style offense. There are some concerns about his frame but he made big plays in his three years. Moore has a more compact frame and had 80 catches for 1,033 yards and eight touchdowns at Maryland in 2017 and is considered a good route runner.
All of the receivers have strengths and weaknesses that need to be considered. When Bryant came out in 2010, the questions about him were not about his receiving skills. Even he still needed time to adjust to the NFL, catching 45 passes for 561 yards and six touchdowns. He did the amazing, but he struggled with the ordinary, which is a process all athletes go through.
When the Cowboys drafted Bryant, they had Miles Austin coming off a Pro Bowl season and Roy Williams at receiver. They didn't need Bryant to carry the load right away.
As the Cowboys prepare for 2018, they will not ask one receiver, either free-agent pickup Hurns or whomever they draft early, to replicate Bryant's production from 2012-14.
They would want a receiver to replace the production of Bryant in 2017 when he caught 69 passes for 838 yards and scored six touchdowns.


Source : ESPN