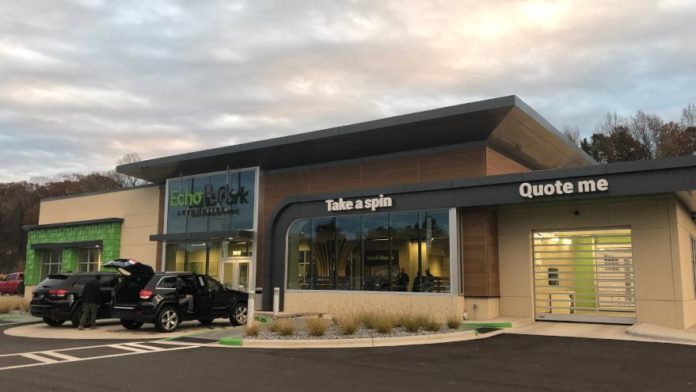 CARY, N.C. – 
After announcing the opening of three EchoPark Automotive locations last week, Sonic Automotive has expanded its standalone used-car store program yet again.
And Lithia & Driveway continues its rapid M&A activity.
Starting with the Sonic news, the retailer said Tuesday it has opened an EchoPark delivery center in Louisville, Ky.
"The demand for a modern, consumer-friendly, pre-owned vehicle purchase experience continues to grow, and we are excited to introduce our unique EchoPark experience to Kentucky, where we will offer a new population of car buyers an exceptional selection of high-quality, pre-owned vehicles, priced up to $3,000 below market with a modern, flexible guest-centric experience," Sonic and EchoPark chief executive officer David Smith said in a news release.
Shoppers can browse and complete their purchase on EchoPark.com then take delivery at the Louisville location.
They schedule a time to visit the location and work with an EchoPark Experience Guide who can answer questions and help with any final steps in the process.
The opening of the Louisville facility follows these moves last week: an EchoPark Automotive retail sales center in Marietta, Ga., to serve the greater Atlanta market; an EchoPark delivery center in Salt Lake City; and an EchoPark delivery center in Greensboro, N.C. to serve the Greensboro-Winston Salem-High Point market.
Sonic and EchoPark president Jeff Dyke said in the release on the Louisville facility, "Over the past year, car buyers in the Kentucky market have already discovered the value of the EchoPark brand, traveling hundreds of miles to save thousands of dollars purchasing a vehicle from our physical retail location in Nashville.
"We are happy to announce that we have reduced that travel time by bringing our flexible, seamless car-buying experience directly to this market as we continue to expand our nationwide reach," Dyke said.
Lithia buys Subaru stores
Meanwhile over at Lithia, the retailer said Tuesday it has acquired two Subaru locations: Subaru of Mobile in Mobile, Ala., and Michael's Subaru in Bellevue, Wash.
The Mobile dealership marks the first store for Lithia in Alabama and a new state for its Southeast region, which is Lithia's least dense.
"This Southeast expansion — coupled with growth and outstanding performances of our existing stores — has us outpacing our 5-year Plan," Lithia president and CEO Bryan DeBoer said in a news release. "These acquisitions amplify our digital Driveway brand and fuel our fast-paced network development."
The Bellevue store is Lithia's third in the Seattle area. Lithia also recently bought Michael's Toyota of Bellevue.
Lithia anticipates the two acquired stores announced Tuesday will generate annualized revenues of $155 million. The purchases were financed using existing on-balance sheet capacity.


Source : AutoFinanceNews