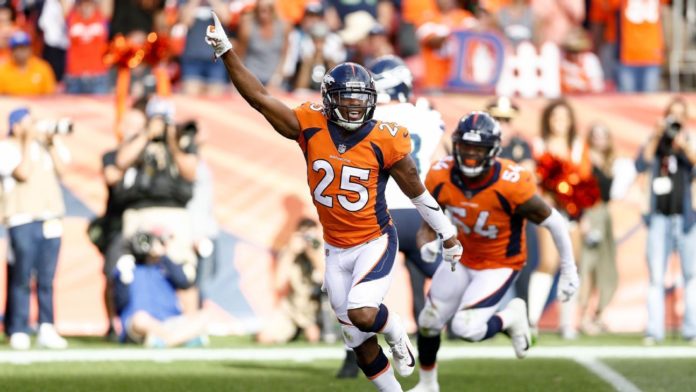 ENGLEWOOD, Colo. — Holding out hope the team can keep itself in the playoff hunt and keep playing after the New Year, Denver Broncos coach Vance Joseph said Monday cornerback Chris Harris Jr. will not be placed on injured reserve.
Joseph said Harris is "week to week" with a "small break" in his right fibula.
The three-time Pro Bowl selection suffered the injury with just under five minutes to play in the first quarter of the Broncos' 24-10 victory Sunday over the Cincinnati Bengals. The win was the Broncos' third in a row and moved them to 6-6 on the season and still in the running for the final Wild Card spot in the AFC's playoff race.
"And he won't go to (injured reserve)," Joseph said. "He needs rest and rehab and we'll see how it falls in a couple weeks … It's great news for Chris, he has time to hopefully recover and build up and hopefully we're still playing."
When asked after Sunday's game if he could return if the Broncos made the playoff field, Harris said "I think it could happen." Harris also said after the game he didn't believe he would need surgery.
Joseph also said Monday since Harris will stay on the roster the team will not add a defensive back. Instead the Broncos will lean on Tramaine Brock and rookie Isaac Yiadom alongside Bradley Roby in most situations. Safety Justin Simmons played in Harris' spot in some personnel groupings against the Bengals and Joseph said Simmons fared well.
Harris will still attend the defensive meetings in between sessions with the team's training staff to help some of the younger players.
"He's going to be around rehabbing and be in every meeting with us," Joseph said. "It's critical for our young (defensive backs), he's a very, very smart football player, the things he finds in his film study, no one else finds."
Sunday's game against the San Francisco 49ers will be the first regular-season game Harris has missed for the Broncos since the 2012 season. He missed two playoff games, including the Super Bowl XLVIII following the 2013 regular season, with a torn ACL.


Source : ESPN