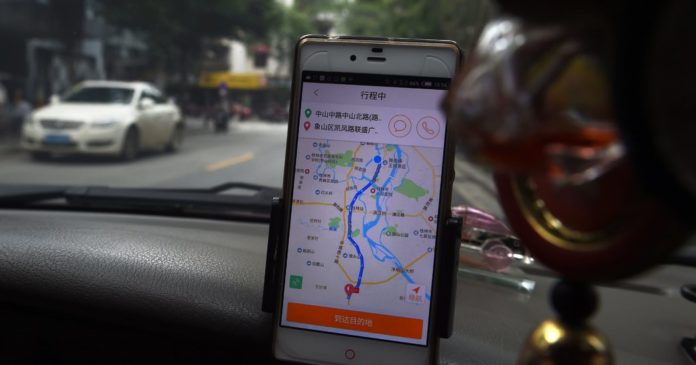 BEIJING — Didi Chuxing, China's popular ride-sharing service, fired two senior executives and suspended a car-pooling service after the second killing of a female passenger in three months.
The crime follows others that have raised questions about the company's ability to protect women who use its services and comes at a fraught time for Didi, one of the world's most successful start-ups. It has been expanding at a frenetic pace in China and around the world, and it is widely expected to raise billions of dollars should it seek to sell shares on public markets.
But a string of episodes in China has raised questions about its ability to protect women who use its services. Over the weekend, a number of consumers called online for a boycott of Didi's services.
The passenger, surnamed Zhao, used Hitch, the Didi car-pooling service, in the eastern city of Wenzhou on Friday. That afternoon, the Wenzhou police said on Sunday, she was raped and stabbed in the neck. The driver was arrested on Saturday.
The scandal provides more fodder for critics of the company, which bought Uber's business in China two years ago. In May, a 21-year-old flight attendant was found dead after using Didi's Hitch service in the central city of Zhengzhou.
Didi said in a statement on Sunday that it had fired Huang Jieli, the general manager of Hitch, and Huang Jinhong, vice-president of its customer service operations. The former executives could not be immediately reached for comment.
Didi said on Saturday that the driver had no criminal record and had provided authentic documentation to the company. But it also said that another passenger had filed a complaint against the driver on Thursday, saying that the driver had asked multiple times for the passenger to sit next to him, took the passenger to a remote place and then followed the passenger after they left the vehicle.
Didi said it "blamed itself" for not investigating the complaint.
"As a platform, we have disappointed the public's trust in us and cannot shirk this responsibility," the company said.
A friend of the slain woman said on Weibo that they had called Didi's customer service hotline seven times, to no avail. Another friend went to a police station in Wenzhou. When officers tried to contact Didi, the company said that their request would take about three to four hours, the Wenzhou police said.
On social media, Chinese internet users roundly condemned Didi for being slow to react.
Since May, Chinese news outlets have widely cited several instances of violence and harassment. At least 53 women have been raped or sexually harassed by Didi drivers in the past four years, Southern Weekly, a newspaper based in Guangzhou, reported, citing news reports and court documents. Caixin, a weekly business publication, found at least 14 rape cases involving Didi, citing court documents.
Didi's main business is similar to Uber's. Its smaller Hitch service enabled private drivers to pick up passengers while on their daily commutes for a little extra money. Didi marketed Hitch as a way for riders to make friends, as well as a cheaper alternative to its other ride-hailing services.
Many features were abused. For example, the app allowed drivers to leave personalized tags and ratings of passengers on Didi Hitch. But female passengers noticed that some drivers used those features to comment on their looks.
Didi announced new measures to improve rider safety after the killing in May, saying it would overhaul its safety services. It said it would suspend the ability of drivers to leave personalized tags. The company said it would also suspend its Hitch service between 10 p.m. and 6 a.m. each day.
In June, Didi resumed late night service but said it would not allow male drivers to pick up female passengers in the after-hours. The company said the move was designed to protect women, but it was criticized as being sexist and an inconvenience for female passengers, since most Chinese drivers are men.
Elsie Chen contributed research.


Source : Nytimes