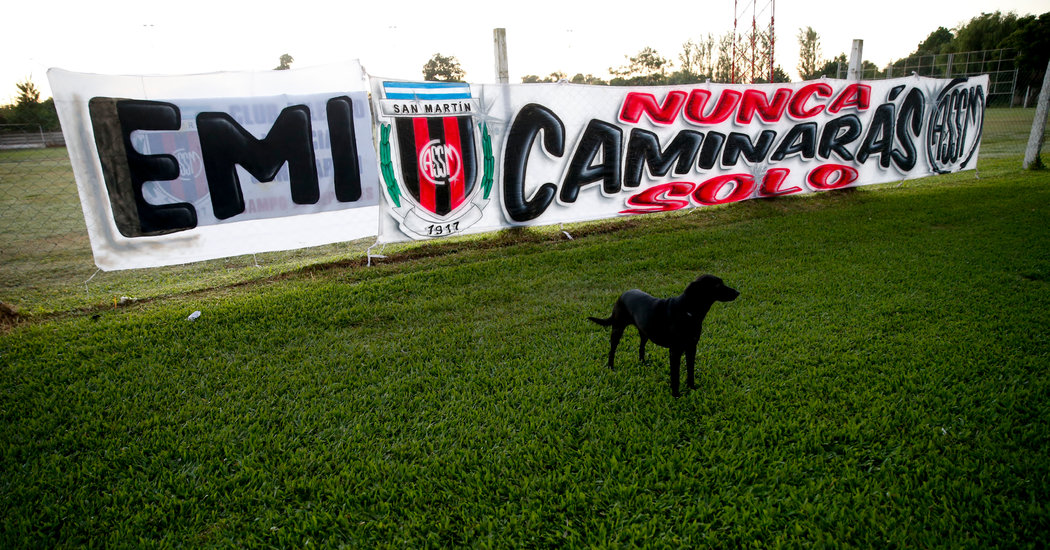 A small village in Argentina on Saturday prepared to bid farewell to a favorite son, the soccer striker Emiliano Sala, who died along with his pilot last month when his small plane crashed in the English Channel.
Friends, family and supporters gathered early Saturday in the village of Progreso, in the country's northeast, for a wake at Mr. Sala's soccer boyhood club, San Martín de Progreso, where his body lay in state. A religious ceremony was scheduled for the afternoon, and he was to be cremated, reports said.
Outside the club, a banner read, "Emi, you will never walk alone."
Mr. Sala's body arrived in the village on Friday, a little more than a week after his remains were found in the wreckage of the plane that went down shortly after takeoff from Nantes, France, for Cardiff, Wales.
"We are waiting for you, Emi," the San Martín club posted on Facebook ahead of the body's arrival.
The club's president, Daniel Ribero told Agence France-Presse, "He represented a lot for us. We're a small village and Emi was a celebrity, the only player to turn professional."
Mr. Sala, 28, started off as a youth player in his native Argentina and began his international career in France in 2010. He recently transferred to the English Premier League club Cardiff City from Nantes in the French league. The Cardiff club signed him for £15 million ($19 million) to add to its striking power.
Representatives of both clubs were expected at the funeral service, the BBC reported and FC Nantes and fans paid tribute to Mr. Sala on Twitter.
On Thursday, as two of his former French teams — SN Caen and FC Nantes — faced each other at Caen on France's west coast, signs paying tribute to the striker lined the pitch and players and fans joined in applause before the match began.
Mr. Sala was flying to Cardiff with a pilot, David Ibbotson, on Jan. 21, when their single-engine, propeller-driven Piper Malibu vanished. An initial search for survivors was called off, but after pleas from Mr. Sala's family and a funding drive that raised more than 371,000 euros, about $424,000 in donations, the search resumed.
Recovery crews sent by the British Air Accidents Investigation Branch found the wreckage of the plane and recovered Mr. Sala's body.
An inquest into the crash has been adjourned until November, when police and air investigators will release more details about the accident.
The pilot is still missing, and Mr. Ibbotson's family were seeking donations to help find and recover his body.
"We know that he's dead; we do know that, but we just want him home," Nora Ibbotson, the pilot's wife, told a morning television show on the British network ITV on Monday. With the help of famous soccer players and fans, the fund-raiser was close to hitting its target of 400,000 pounds, around $515,000, according to its GoFundMe page.
Although the wreckage of the Piper Malibu was not raised from the ocean bed, British investigators said underwater footage of the aircraft would help their work. The British Air Accidents Investigation Branch said it would publish early findings in the coming week.




Source : NYtimes