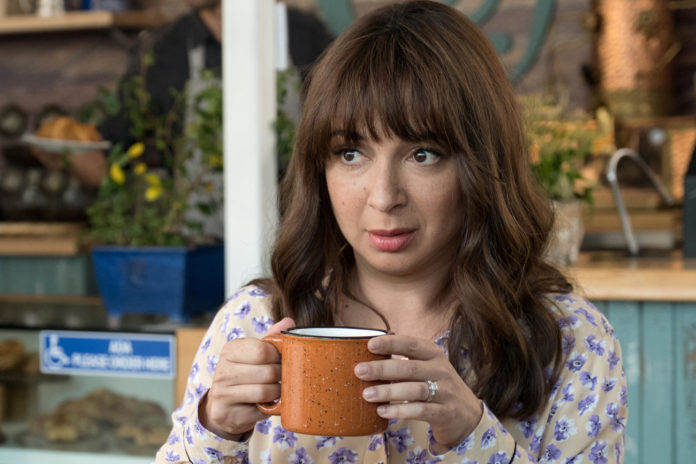 Maya Rudolph can do anything she sets her mind to and that includes playing dead. The premise of Amazon Prime Video's Forever starts out following Rudolph's June as she copes with her husband's death after a skiing accident. While it's a shame to see Fred Armisen's Oscar (supposedly) disappear by the end of the first episode of the series, the promise of watching a series about June coping with her own grief and loss is enough to keep viewers hooked through the first few episodes. And then June dies.
What follows is June and Oscar's trip through the afterlife, which looks a lot like a suburban neighborhood complete with kooky neighbors who pop in and out. Yes, it sounds like The Good Place. But Rudolph's June is by no means an Eleanor Shellstrop, or even any sort of version like the NBC character. June is complex, layered, openly grieves, questions her own mortality even after death, and Rudolph is able to convey all those emotions and more with a simple forlorn look — and also while singing karaoke. She's allowed a full range to do so, letting the character try and fail at times, and even flail which is still, in this day in age, rare for a female character on television. Rudolph is by no means a stranger to the Emmys race, having been nominated for Outstanding Guest Actress in a Comedy Series in both 2012 and 2018. But it's time she enters the race as a leading actress for her work in Forever.
See More of TV Guide's 2019 Dream Emmy Nominees
While Forever is very much a two-handed show between Rudolph and Armisen, the former is clearly leaps and bounds beyond her counterpart in terms of story and also performance. Armisen is, as usual, bumbling along being his weird self (not like that's a bad thing). Here, Rudolph breaks her normal comedic mode while still managing to make us laugh as she tries to do things like master the art of awkwardly sitting and burning furniture in her afterlife home. Instead of being over the top, Rudolph's performance shines through little moments she's able to convey. She's able to take things that might read bland on the page and turn them into something that resonates deeply with viewers, as they wonder about their own paths through life. June is way stronger than we thought because could you deal with half the things she's dealt? While dead?
And June's journey is dotted with obstacles she has to overcome, without her also-dead husband. Honestly, Forever would work perfectly fine without Oscar, and when he shows up on-screen you kinda wish he would just go away so we could be with June, and only June. Rudolph deserves more than just center stage, she deserves the whole show to revolve around her. She's the one continuing to go through her own post-death crisis, she's the one still grappling with a greater purpose, and she's the one who is looking to find out more. Is there more in this new life for her? She's going to find out, and no one is going to stop her from doing so, even if it means she's headed into uncharted territory.
It's not Oscar and June Forever — it should just be June's Forever as she comes to love herself more than herself in a partnership.
Maya Rudolph, ForeverPhoto: Colleen Hayes
The best episode of Forever's first season (Episode 6, "Andre and Sarah") doesn't actually revolve around Oscar or June, but the latter shows up at the very end to convey a thousand different thoughts through her silent onlooking performance. Rudolph just stands there watching the events around her unfold, and she deserves recognition for simply being.
The one downside to Forever is that the rules of this afterlife are never clearly established, leaving many to wonder what exactly is going on. While something along those lines might completely derail the likes of The Good Place, here in Forever they don't matter so much. We're not necessarily sticking around to learn about what happens and where we go after we die; we're here to watch Rudolph navigate the ins and outs of her new world, wherever it may take her. A hypothetical Season 2 of Forever could take June to the ocean floor or even the moon and it would still be worth watching.
Discover your new favorite show: Watch This Now!
And in the end, the series takes June to surprising places, many of which would be too complicated to concisely explain considering this is a show about death (actually including the ocean floor). Rudolph has, time and time again, proven that she is capable of pulling in big belly laughs, but now she's shown us that her performances can be more nuanced and stick with you far longer than a one-off joke or some slapstick comedy.
Honestly, Rudolph should snag an Emmy nomination for Forever based solely on her performance of Montell Jordan's "This Is How We Do It." If nothing else, she should at least perform it during the Emmys telecast.
Forever is streaming on Amazon. Emmy nominations will be announced Tuesday, July 16. The 71st Primetime Emmy Awards will be broadcast Sunday, Sept. 22 at 8 p.m. ET / 5 p.m. PT on Fox.




Source : TVGuide