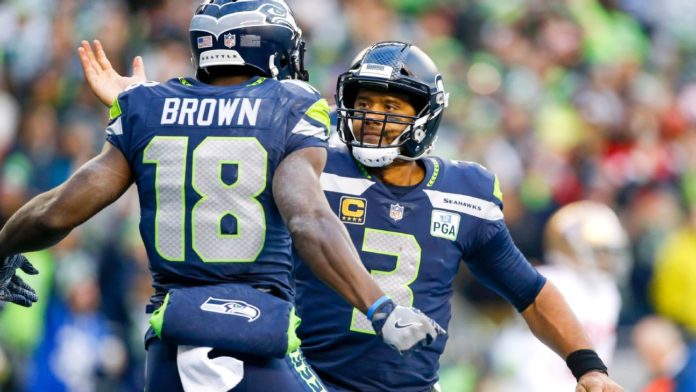 RENTON, Wash. — Officially, Russell Wilson completed 11 of 17 attempts on Sunday. But there might have been one more throw not accounted for on the stat sheet.
It allegedly involved a shoe.
Specifically, the one that slipped off the left foot of San Francisco 49ers linebacker Fred Warner late in the third quarter of the Seattle Seahawks' blowout win at home. According to 49ers head coach Kyle Shanahan, Wilson picked up the shoe and tossed it several yards behind the line of scrimmage. The 49ers were flagged for offside on the next play when they were trying to get a replacement for Warner onto the field before the hurrying-up Seahawks got off their next snap. Shanahan cited that sequence as the reason he lost his cool and drew a penalty for unsportsmanlike conduct.
See what the latest playoff picture looks like and simulate your own playoff scenarios.
NFL Playoff Machine
There's a joke to be made about the shoe toss being another example of Wilson making the most out of his limited opportunities to throw this season.
After all, the offside penalty negated a sack, the unsportsmanlike conduct gave the Seahawks 10 free yards and they scored three plays later, when Wilson found Jaron Brown for his fourth and final touchdown pass of the game.
"I thought he did really good," Pete Carroll said of Wilson in what has become a familiar postgame line.
Sunday's win was a continuation of Wilson's brilliantly efficient season.
His 17 attempts tied for his fewest of the year and marked the seventh time in 12 games he has finished with fewer than 30 throws. His 326 attempts (24th most in the NFL) still have him on pace for his fewest since 2013, his second season; yet his 29 touchdown passes (the league's fourth most) have him on pace to easily break his previous best of 34.
It's one of several numbers illustrative of how Wilson is throwing the ball as well if not better than ever — even though he is throwing it much less often, thanks to the resurgence of Seattle's top-ranked running game.
A few others:
Wilson is on pace for career bests in touchdown-to-interception ratio (5.8, third in the NFL), touchdowns per pass attempt (8.9 percent, second) and passer rating (115.5, fourth).

His interceptions per pass attempt (1.5 percent, sixth in the NFL) and his yards-per-attempt average (8.33, seventh) would tie his previous career bests.
To be sure, Wilson has hardly been flawless of late. He missed would-be touchdown throws to Doug Baldwin in consecutive games and overthrew Tyler Lockett on a deep crossing route on Sunday. But his four touchdowns in Sunday's contest — a season high — give him 11 over the past four games with no interceptions.
"There's always a couple of passes that get away in there somewhere, but the way he's running the club, it's a great way for us to play," Carroll said. "To be able to hammer the football like that, and he takes full advantage of that by having guys open. The throw he threw to Tyler Lockett [on his 52-yard touchdown] was exquisite; it was just a phenomenal throw. On most of those bigger plays, and the touchdown plays, it's worth noting how well he was protected. The pass protection was excellent, and only in a couple of situations and real long situations did we have a breakdown. But it wasn't because we couldn't protect him. We held the ball a little bit, just trying to make some plays.
"Russell's doing a phenomenal job with our offense. I love the way it's fitting together. We have to keep going."


Source : ESPN