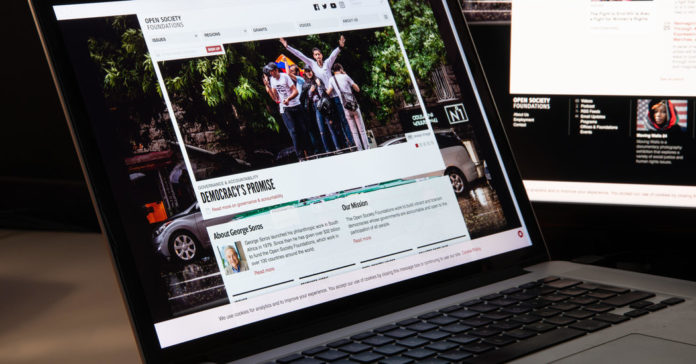 Open Society Foundations, the philanthropic group founded by George Soros, announced Monday that it would stop its operations in Turkey, where the organization and its founder have been assailed by an increasingly authoritarian government.
The organization, which promotes justice and human rights in more than 100 countries, said that it would close its office in Istanbul after it became the target of "baseless" accusations that made it impossible to work in the country.
The Turkish government has tried to link Open Society to the Gezi Park protests of 2013; the organization has denied any role and dismissed the allegation as unfounded. One of the organization's board members, Osman Kavala, was arrested and has been in jail for over a year without being formally charged, the organization said.
"We are deeply dismayed and disappointed that the foundation had to close," an Open Society spokeswoman, Laura Silber, said on Monday. But, she said, "it became completely untenable."
The announcement came days after the Turkish president, Recep Tayyip Erdogan, denounced Mr. Soros in a speech, Reuters reported. Mr. Erdogan accused Mr. Kavala, one of Turkey's most prominent businessmen and civil society activists, of financing terrorists during the Gezi protests and accused Mr. Soros of supporting him.
"And who is behind him?" Mr. Erdogan said, according to the report. "The famous Hungarian Jew Soros. This is a man who assigns people to divide nations and shatter them. He has so much money and he spends it this way."
It was the latest in a series of attacks against Mr. Soros, a Hungarian-born Jewish billionaire and a major Democratic donor who has been under siege on both sides of the Atlantic.
In the United States, he is a target of anti-Semitism and conspiracy theories, and conservative groups often paint him as a villain. He was among several critics of President Trump who were sent explosive devices leading up to the midterm elections. Some have speculated — falsely — that he financed a caravan of migrants moving north in Mexico and, last week, Facebook acknowledged that it had hired a lobbying company that pushed negative stories about Facebook's critics, including Mr. Soros.
In Europe, he has been vilified by government leaders. The organization ceased operations in Hungary, the country of Mr. Soros's birth, in May amid political and legal pressure from Prime Minister Viktor Orban, who has long used Mr. Soros as a foil, often using anti-Semitic tropes. Mr. Orban has been the chief architect behind a campaign of misrepresentations and falsehoods aimed at Mr. Soros, even photoshopping him into campaign posters with opposition candidates during the country's elections this past spring.
In that case, Open Society said that it would move its operations to Berlin.
Ms. Silber, the Open Society spokeswoman, said that the organization was unsure whether it would be able to continue to do work in Turkey after the closing of its Istanbul office, but hoped to be able to continue working with Turkish citizens.
"We are in a time of rising authoritarianism and closing space on civil society," Ms. Silber said. "This is not about the Open Society Foundations. This is a much bigger battle at play — the battle against free expression, against human rights and justice."


Source : Nytimes