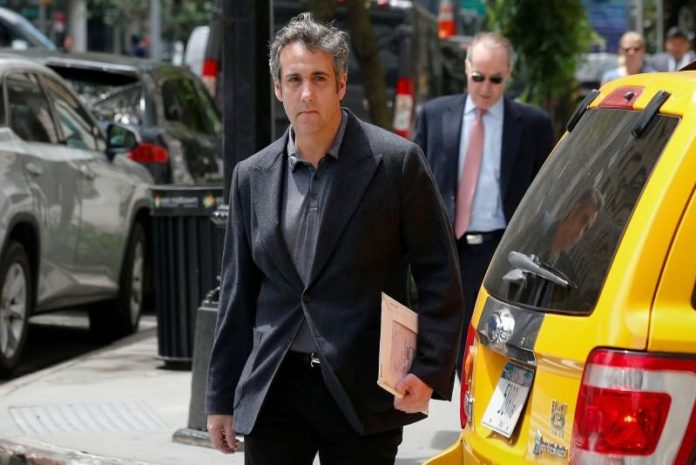 NEW YORK (Reuters) – A review of documents seized from U.S. President Donald Trump's longtime personal lawyer Michael Cohen has so far turned up only a handful of communications between Cohen and his clients, a federal judge said in a written order on Friday.
Cohen's home and office were raided in April as part of a criminal investigation by Manhattan federal prosecutors. He has not been charged with any crime.
Out of nearly 300,000 items reviewed so far, 161 are privileged and seven of them are communications between Cohen and a client containing legal advice, according to an order from U.S. District Judge Kimba Wood on Friday confirming findings by the special master. The order said most of the documents were communications between Cohen and his lawyers.
Lawyers for Cohen and Trump could not immediately be reached for comment.
Wood appointed a special master to review the documents before turning them over to prosecutors after lawyers for Cohen and Trump said they might include privileged attorney-client communications, which prosecutors are normally not allowed to see.
Prosecutors said in an April court filing that they believed Cohen was "performing little to no legal work" and that they were primarily investigating his personal business dealings.
Most of the roughly 3.7 million items seized from Cohen are still under review.
On Friday, Wood ordered Cohen's lawyers to identify for the special master, former federal judge Barbara Jones, by June 27 any remaining items they believe are privileged.
The probe into Cohen's dealings stems in part from a referral by Special Counsel Robert Mueller, who is investigating possible collusion between Russia and Trump's 2016 campaign.
Trump has denied that there was any collusion, and Russia has denied meddling in the election.
Reporting By Brendan Pierson in New York


Source : Denver Post