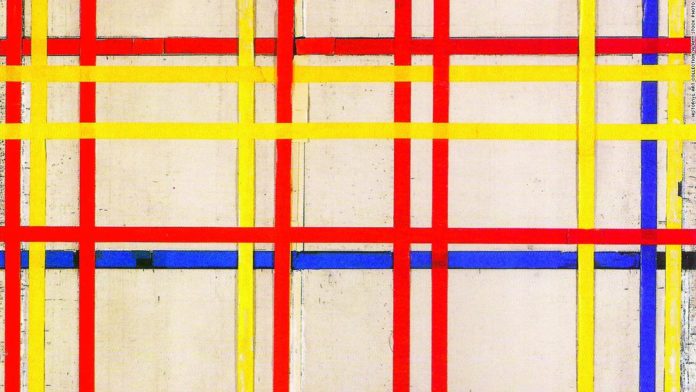 This article was originally published by
The Art Newspaper
, an editorial partner of CNN Style.
Art will always inspire and provoke, but it also continues to baffle and confound. To kick off the New Year, we look at some of the lighter examples of a world turned upside-down, with even some of the most experienced curators not quite getting the hang of it.
Paul Gauguin, "Breton Village under the Snow" (1894)
Musée d'Orsay, Paris
This landscape was sold in an auction in Tahiti after the death of Gauguin in 1903. According to Victor Segalen, a friend of the artist who was present at the sale, the auctioneer presented the painting upside-down, calling it "Niagara Falls." Segalen bought it for the equivalent of a few pennies and turned it the right way up, revealing that it depicted Brittany cottages rather than plunging water. "Breton Village under the Snow" was later acquired by the Musée d'Orsay in Paris.
Piet Mondrian, "New York City 1" (1941)
Kunstsammlung Nordrhein-Westfalen, Düsseldorf
Last year, curators at Düsseldorf's Kunstsammlung Nordrhein-Westfalen were about to open their exhibition "Mondrian: Evolution" (until February 12) when they researched one of their own works, "New York City 1 (1941)". They found a 1944 photograph of it propped up in Mondrian's studio with the double-blue lines at the top, suggesting that for decades they had hung it the wrong way. But since the fragility of the coloured adhesive strips makes it too risky to turn the work, it remains "upside-down" in their current exhibition.
Piet Mondrian "New York City 1 (1941)" was hung the wrong way round in Düsseldorf. Credit: History & Art Collection/Alamy Stock Photo
Mark Rothko, "Black on Maroon" (1958)
Tate, London
In 1970, when acquired by the Tate, a pair of Rothko paintings were hung horizontally, reflecting the way that the artist had signed the canvases on the reverse. But nine years later, following a re-display, curators changed their minds, hanging both versions of "Black on Maroon" vertically. In 1987, they reverted to a horizontal hang, but then went back to vertical. Although the two Rothkos have just gone into storage, the Tate's website still retains the vertical hang.

At the Tate in London, Mark Rothko's 1958 painting also baffled curators. Credit: Rob Stothard/Getty Images
Van Gogh, "Long Grass and Butterflies" (1890)
National Gallery, London
A 15-year-old schoolgirl visiting the National Gallery in 1965 noticed that "Long Grass and Butterflies" appeared to be upside-down. After staff had been alerted, it emerged that the painting had been temporarily taken away for photography and, on its return, it had been hung the wrong way up. Fortunately, it had only been upside-down for 15 minutes. Now, the Van Gogh is to be the star attraction in a touring exhibition of 52 National Gallery paintings in China, starting at the Shanghai Museum this May.

At the National Gallery in London again, a 19th century Van Gogh was hung incorrectly until a 15 year-old-girl pointed it out. Credit: Niday Picture Library/Alamy Stock Photo
Salvador Dalí, "Four Fishermen's Wives of Cadaqués" (1928)
Museo Nacional Centro de Arte Reina Sofia, Madrid
The Art Newspaper spotted that Dalí's "
Four Fishermen's Wives of Cadaqués
" was hanging upside down in a 1994 show at London's Hayward Gallery. It was the phallus that alerted us: Dalí would hardly have made it point downwards. London art critics had not noticed. The Independent's Tim Hilton innocently described the upside down surrealist painting as "the highlight of the exhibition." We inquired of Antoni Pitxot, one of Dalí's closest friends, who said the artist had told him that the three red crab-like forms with raised hands represent women mending their husband's nets. It remains a mystery why the title confusingly specifies "four."
Top image: Paul Gauguin's "Breton Village under the Snow"


Source : Nbcnewyork