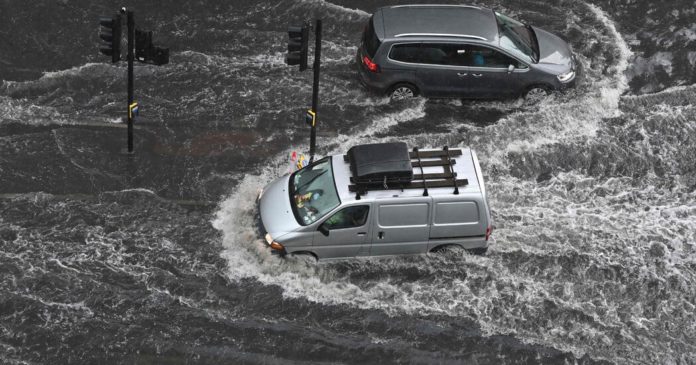 For the second time in a matter of two weeks, heavy rainfall has wreaked havoc across London, flooding train stations, stranding motorists and forcing at least two hospitals to redirect patients from their emergency rooms.
The downpour, which dumped about a month's worth of rain in some areas on Sunday, came at the tail end of a heat wave that had led Public Health England to issue an alert for the first time ever warning people to stay cool indoors, close curtains in rooms that face the sun, drink plenty of water and avoid excess alcohol.
The heat broke as thunderstorms swept across southern England this weekend, bringing torrential downpours that dumped a month's worth of rain in some areas in just a few hours.
The London Fire Brigade wrote on Twitter that it had responded to more than 1,000 calls as people needed to be rescue from cars suddenly submerged or escape homes as the waters rose. Heavy rainfall flooded emergency departments of Newham Hospital and led to "operational issues" at Whipps Cross Hospital. And service on the London Underground was disrupted as water poured into several stations.
Thames Water, a company responsible for Greater London's sewage and water services, said on Monday that the rainfall had led to surface flooding and that crews had been working through the night to make repairs.
By Monday morning, the floodwaters had largely subsided, though Britain's weather service said that warnings remained in effect in parts of the country.
While individual weather events are hard to directly attribute to climate change, there is now broad scientific agreement that the extreme weather the world is experiencing this summer is being fueled by those changes.




Source : Nytimes