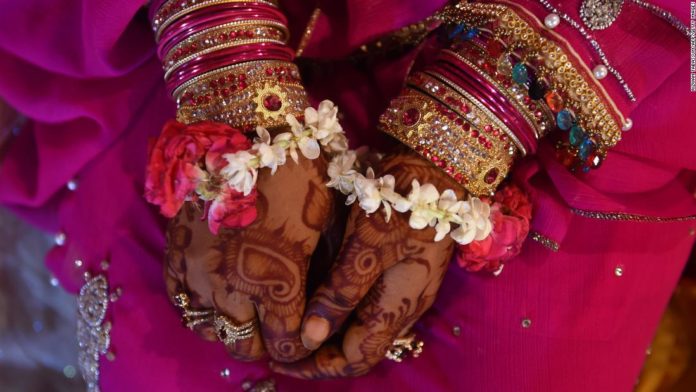 A Birmingham court convicted the mother of four on Tuesday of duping her 17-year-old daughter into traveling to Pakistan on the pretext of a family holiday and forcing her to marry a relative almost twice her age.
It was the first time a conviction has been secured after a victim testified against her own family. Legislation against forced marriage was introduced in the UK in 2014, but has led to only one previous successful prosecution.
Nearly 1,200 possible forced marriage cases were flagged up to British authorities last year.
According to a UK government report
, the statistics do "not reflect the full scale of the abuse."
The court heard the girl had been entered into a "marriage contract" with the man years before in Pakistan and became pregnant to him aged 13. The victim had an abortion on returning to the UK, with her doctor reporting his concerns to social services.
The girl's 45-year-old mother, who cannot be named for legal reasons to protect the identity of the victim, tricked her daughter into returning to Pakistan shortly before her 18th birthday.
The court found the woman guilty of deceiving the victim into traveling to Pakistan in order to enter into a false marriage, forced marriage and perjury.
'Culturally embedded'
Prominent Pakistani activist and writer Bina Shah said the problem of forced marriage was culturally embedded in Pakistan, with marriage seen as transactional and girls often considered as commodities.
"It is a major problem in Pakistan. We have the problem of child marriage but also coerced marriages, which given that most marriages in Pakistan are arranged, is widespread," she said.
The marriages are often made between relations, particularly in rural areas, to keep property in the family, she added.
"People are looking for other advantages, for example, to marry someone with a foreign passport," she told CNN.
Repatriation
The Birmingham court heard that the victim had been returned from Pakistan to the UK with the assistance of the Home Office.
Since being introduced in 2008, more than 1,500 Forced Marriage Protection Orders (FMPO) have also been made, preventing people from being forced to wed and assisting in repatriating victims.
In the past decade British diplomats, working in tandem with the unit, have rescued scores of women from forced marriages in Pakistan.
"We dealt with 59 cases [of forced marriage] in Pakistan last year, 10 male victims and 49 female," a spokesman for the British High Commission in Pakistan told CNN.
Last year, British diplomats assisted with 16 repatriations, through rescues or protection orders, he added.


Source : Nbcnewyork