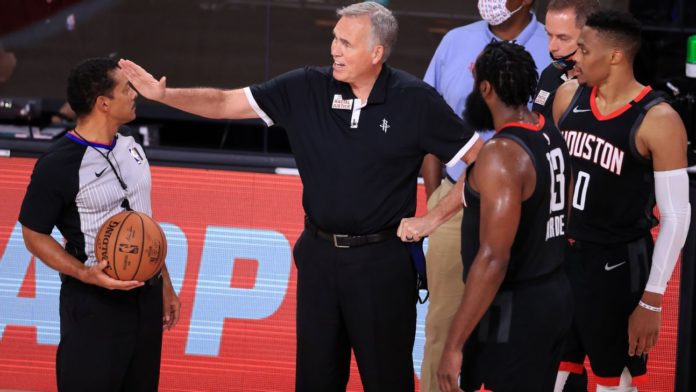 Coach Mike D'Antoni, a free agent now that the Houston Rockets are eliminated from the playoffs, said his preference would be to remain with the organization.
That's also the hope of James Harden, the face of the franchise.
"Of course. Of course," Harden said after the Rockets' season-ending 119-96 loss to the Los Angeles Lakers in Game 5 of the Western Conference semifinals Saturday night in Lake Buena Vista, Florida. "Mike has done some unbelievable things here."
The Rockets have gone 217-101 during D'Antoni's four seasons in Houston, plus 28-23 in the playoffs, advancing past the first round in each season and to Game 7 of the West finals in 2017-18.
D'Antoni, 69, spent this season in the final year of his contract after extension discussions twice broke down last offseason in unusually public fashion. Rockets owner Tilman Fertitta and D'Antoni's longtime agent, Warren LeGarie, publicly blamed each other for the failure to reach an agreement on an extension.
However, D'Antoni expressed an appreciation for the Rockets organization Saturday night, when he reiterated again his intention to continue coaching, whether it's in Houston or elsewhere.
"We've got a great organization, great city, great fans, team's great," D'Antoni said. "I mean, everything's good here. We'll see what happens, but I couldn't ask for a better situation. I had four years. Hopefully it keeps going, but you just never know. But everything is good on this side, for sure.
"It was fun. It's still fun. You always hate to lose. It's always a little bittersweet, but I couldn't ask for better people to work with and better players to work with. A lot of things stand out, a lot of little things, but I had a great four years, for sure."
D'Antoni is considered a leading candidate in the Indiana Pacers' coaching search, ESPN's Adrian Wojnarowski reported recently. Sources told ESPN that at least one other team with a coaching vacancy has a strong interest in D'Antoni.
D'Antoni, who has a career record of 672-527, is widely credited for revolutionizing NBA offense. His "Seven Seconds or Less" Phoenix Suns teams shattered conventional norms by pushing the tempo and shooting more 3-pointers than any team had to that point, a playing style that has been adopted throughout the league a decade and a half later. The Rockets pushed the extremes even further, setting records for 3s attempted in each of D'Antoni's first three years and scrapping the traditional center position this season.
D'Antoni, whose Phoenix teams flourished with Steve Nash as a pick-and-roll maestro, adapted his offensive system to play to Harden's strengths as a historically elite isolation player in Houston. Harden, whose move to point guard was the first major decision D'Antoni made with the Rockets, has thrived in their four seasons together, winning an assists title, three scoring titles and an MVP.
"The experience has been great — moving me to point guard primarily, the ball handler and just coming up with different schemes and basically changing the game," said Harden, who had 30 points and five assists in the Game 5 loss. "It's been an unbelievable experience. Tough season for us. Obviously, it didn't end like we wanted it to. We've just got to figure it out."
D'Antoni said he had yet to give much thought to his potential options if he doesn't return to the Rockets.
"First, I'll go back to my room right now to have a little pity party," D'Antoni said. "Then after that, we'll figure it out. Right now, this still stings enough to where I'm not going to think about much else other than this for a little bit."


Source : ESPN