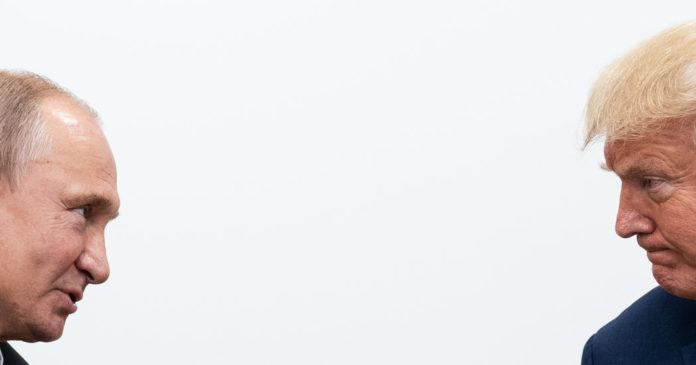 An overture to North Korea's leader.
President Trump suggested on Saturday that he would be willing to meet with North Korea's leader, Kim Jong-un, for the third time while visiting South Korea this weekend.
Mr. Trump, who is in Japan for the meeting of the Group of 20 nations, leaves on Saturday evening for Seoul. He said on Twitter that he would go to the demilitarized zone between the two Koreas.
"While there, if Chairman Kim of North Korea sees this, I would meet him at the Border/DMZ just to shake his hand and say Hello(?)!" Mr. Trump wrote.
Trump is set to meet with the Saudi crown prince.
The de facto ruler of Saudi Arabia, Crown Prince Mohammed bin Salman, is set to meet with President Trump on Saturday morning, reaffirming their close ties even as Washington has backed away from the kingdom.
Western intelligence agencies have concluded that Prince Mohammed ordered the killing last year of a dissident Saudi journalist and Washington Post columnist, Jamal Khashoggi. Saudi officials have denied that the crown prince had any knowledge or role in the killing, by Saudi agents in the kingdom's consulate in Istanbul.
This month, a United Nations investigation concluded that Saudi officials carried out an extensive cover-up of the killing, scrubbing down rooms, blocking investigators and possibly burning evidence.
Outraged by the killing, the Senate and House in April passed a resolution to end American military assistance for Saudi Arabia's war in Yemen and to curtail Mr. Trump's war powers. But the president has defied lawmakers and the intelligence agencies, and vetoed the resolution.
He has steadfastly stood with the crown prince, emphasizing the sale of American arms to Saudi Arabia. The Trump administration has also found support in Saudi Arabia for its aggressive posturing toward Iran, the kingdom's longstanding rival in the Middle East.
Putin says liberalism has "outlived its purpose."
President Vladimir V. Putin of Russia, amid meetings with President Trump and other leaders, has drawn attention for his remarks in an interview published on Friday — and for his bonhomie with Mr. Trump, who seemed to joke about being rid of journalists.
First, The Financial Times on Friday published an interview with Mr. Putin, in which he declared "the liberal idea" had "outlived its purpose." He said that Chancellor Angela Merkel of Germany had erred in allowing a million refugees into her country, and that Mr. Trump was right in trying to halt migrants from Central America.
"The liberal idea has become obsolete. It has come into conflict with the interests of the overwhelming majority of the population," he said. In a conference call with Russian-based reporters, Mr. Putin's spokesman later clarified that Mr. Putin was not criticizing the liberal political order per se but what he saw as efforts by Western leaders to impose it to the exclusion of other political systems.
And in opening remarks before a meeting with Mr. Trump, Mr. Putin listened cheerily to an apparent joke about getting rid of journalists in Russia. "Get rid of them," Mr. Trump said of reporters. "Fake news is a great term, isn't it? You don't have this problem in Russia, but we do."
Mr. Putin responded that "it's the same" in Russia. The Committee to Protect Journalists has documented the untimely deaths of 58 journalists in Russia in the post-Soviet period, many of them by murder or unexplained accidents.
Despite U.S. findings, Trump's 2020 warning to Putin came with a grin.
President Trump appeared to make light of Russia's interference in the 2016 election on Friday as he met with President Vladimir V. Putin — seeming to again dismiss the conclusions of American intelligence agencies and the special counsel, Robert S. Mueller III.
At the opening remarks before the leaders' meeting, a reporter asked whether Mr. Trump would tell Russia not to meddle in American elections. "Yes, of course I will," he answered.
Turning to Mr. Putin, he said with a slight grin, "Don't meddle in the election."
Mr. Putin smiled, and Mr. Trump pointed at another Russian official, repeating, "Don't meddle in the election."
The remarks risked another domestic political backlash like the one Mr. Trump endured after the leaders' last official meeting in Helsinki, Finland, when Mr. Trump, standing at Mr. Putin's side, challenged the conclusion of his own intelligence agencies about the Russian election operation and credited the Kremlin leader's "extremely strong and powerful" denial.
Before their meeting on Friday, the presidents said they would discuss trade, arms control and other issues. A written summary of the meeting by the White House indicated that they had spoken about Iran, Syria, Venezuela and Ukraine as well — nations where the United States and Russia are at odds — but there was no mention of election interference or an international investigation that pointed to Russia in the 2014 downing of a passenger jet over Ukraine.
Day 1: A cold British-Russian confrontation, an anti-plastic push and a carousel of meetings.
Around the G20 summit on its first day:
Prime Minister Theresa May met President Vladimir V. Putin of Russia with a frosty handshake and colder words. She told him that Britain would not normalize relations with Russia until it ceases "hostile interventions" such as disinformation campaigns and cyberattacks, according to her office. She also told him Britain had irrefutable evidence Russia was behind the use of a deadly nerve agent to target a Russian former spy living in Britain, her office said.

Mr. Putin played down the poisoning case, saying in The Financial Times interview that it was "not worth five kopecks, or even five pounds." He also said: "Treason is the gravest crime possible and traitors must be punished. I am not saying the Salisbury incident is the way to do it. Not at all. But traitors must be punished."

A day after lashing out at Germany and India, President Trump treated their leaders to friendly conversation. After criticizing India's trade policies, he congratulated Prime Minister Narendra Modi of India for his recent re-election, and made conciliatory comments about the need for close relations. With Chancellor Angela Merkel of Germany — a nation the president has accused of freeloading — Mr. Trump brought up his thoughts on the Democratic debate.

"Perhaps you saw it," he told her. "It wasn't very exciting, I can tell you that. And they have another one going on. They definitely have plenty of candidates, that's about it. So I look forward to spending time with you rather than watching."

Prime Minister Shinzo Abe of Japan is campaigning for a dramatic reduction of the plastic waste that flows into the oceans — a major challenge for Japan, the second-largest generator of plastic packaging waste per person, behind the United States. Experts say the problem is bigger than just disposal: Plastic consumption is deeply embedded in Japanese culture, and many nations export their trash to poorer countries that may not have sophisticated recycling systems.
Reporting was contributed by Michael Crowley, Peter Baker, Keith Bradsher and Motoko Rich from Osaka, Japan, Jane Perlez from Beijing, Andrew Kramer from Moscow and by Ben Casselman from New York.


Source : Nytimes