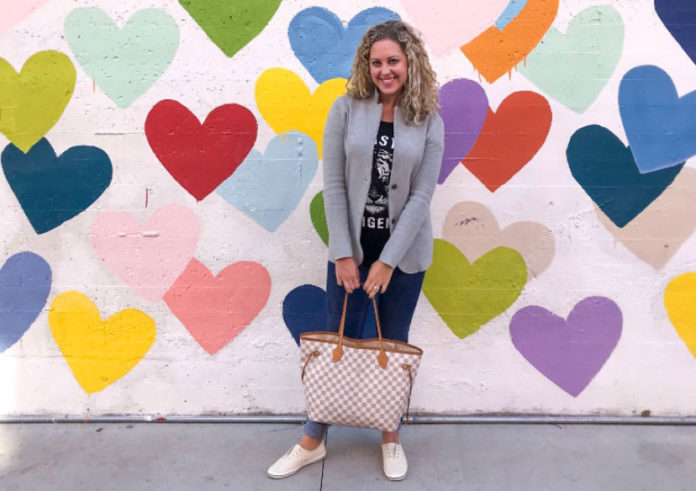 Jennifer Adolfie, 33, with a steeply discounted Louis Vuitton bag she found on Poshmark.
Source: Jennifer Adolfie
You can save a shocking amount of money when you ditch the mall and shop at an online reseller.
There's another reason to do this around the holidays. You can also spare the planet — at least a little — when you buy on the secondary market.
It's a growing interest, and people are finding ways to be green at work and when they travel. Gift-giving is the logical next step. You're not necessarily buying used, either. Merchandise at online auction sites such as eBay ranges from new to slightly used to vintage, and that's true of most sites.
Clothing sites have seen a number of entrants into the market in the last few years, and startups seem to be accelerating. ThredUp and Tradesy started in 2009. Poshmark and TheRealReal opened in 2011. Menswear site Grailed started in 2014, followed by its companion site for womenswear, Heroine, in 2017.
Buying and reselling pre-owned helps goods find new homes as people grow more aware of the negative effects of fast fashion. "Traditional retailers are under pressure to become more sustainable, and resale is emerging as a path toward sustainability for many companies," said Manish Chandra, founder and CEO of Redwood City, California-based Poshmark.
In 2015, the fashion industry worldwide generated 1.2 billion tonnes of carbon dioxide equivalent. Sam Bright, vice president of merchandising at eBay in San Jose, says sales of pre-owned clothing on the site in 2016 meant diverting 108,000 tonnes of CO2-eq from landfills.
Wallet-friendly wardrobe
Jennifer Adolfie, 33, says buying clothes and handbags on Poshmark has saved her a lot of money. The retail resale platform added a home décor category in June to the original clothing and accessories for men, women and children.
Adolfie frequently buys presents for her mother and sister. "You not only save money, but you prevent these clothes and gift items going to landfills," said Adolfie, who lives in Charlotte, North Carolina.
Typical purchases: a Madewell leather bag at half price — "barely used, practically new condition," Adolfie said — a Loft plaid sweater poncho at an approximately 75% discount and a pair of gently used CALIA workout shorts for $12 (about $50 new).
More from Invest in You:
Almost no one has these three things in place for emergencies
Avoid 6 financial mistakes when you teach kids about money
Try these surprising strategies to use up flex spending
People have asked her to find similar items. "I'm a personal shopper," she said, only half-kidding. "I have a list of items to keep my eyes open for."
She helped one friend buy a Louis Vuitton Neverfull bag for his wife. The tote retails for about $1,400. Adolfie found one for less than half-price: $550.
It's going to become more and more common to give vintage or gently used items, Adolfie thinks. "People shouldn't be hesitant to give secondhand goods," she said.
Poshmark has a free authentication service for items over $500. Sites like eBay and Vestiaire, among others, also have ways to ensure an item is authentic.
Avoiding electronics e-waste
You bring your own bags to the supermarket, you have a reusable straw, you recycle plastics.
So why are you buying brand-new electronics?
Save hundreds of dollars when you buy refurbished. Consumer Reports recommends nailing down the warranty in advance.
Manufacturers such as Apple and Samsung, and many retailers, including Overstock, Best Buy and Walmart, have sections for refurbished electronics. Reseller sites now include Swappa and Back Market.
In addition to saving money, you'll play a small part in reducing the world's huge carbon footprint. According to Bright, 2016 sales of pre-owned phones in the U.S. and U.K. were responsible for avoiding 424 tonnes of e-waste.
Refurbished smart phones, tablets, laptops, drones and some appliances — air fryers are popular, says Serge Verdoux, managing director of Back Market in Brooklyn, New York — are a fraction of the retail price.
"The green side of the decision is a close No. 2" after the quality/price ratio, Verdoux said. "Consumers are very happy to contribute to helping the environmental crisis by buying refurbished products."
Scratch and dent
How much you can save depends on the age and condition of the device. If you want the latest and greatest, you may still save 10% to 15% when you buy refurbished.
Verdoux says the biggest draw for most people is products that are two to three years old: You can realize a discount of 40% to 70%. "That's the lifetime of [most] products," he said. "When products are two to three years old, the new generations come out, and there's a discount [on earlier versions] for brands like Apple, Samsung or Dyson." (Dyson manufactures hi-tech vacuum cleaners, air purifiers and other household electronics.)
The site grades devices on appearance from Mint (appears new) to Stallone (has some surface damage that does not affect performance).
Smartphones are a big seller. One example: Apple rolled out its pricey iPhone X in 2017 at $999 (and that was just the starting price). Back Market has them at a steep discount, depending on condition. A recent offering for an iPhone X 256GB: $446.
The site has a one-year warranty and 30-day return policy.


Source : CNBC