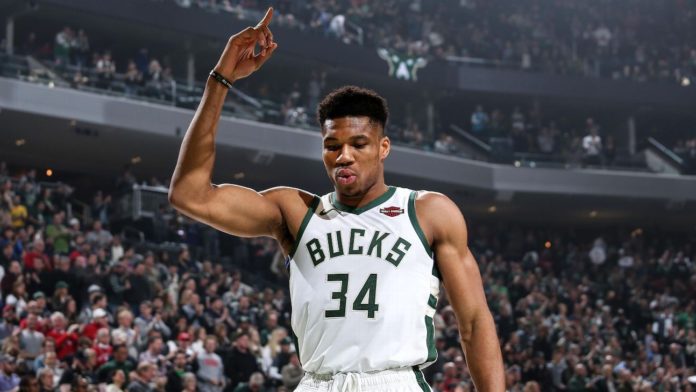 Giannis Antetokounmpo became the latest NBA star to make a donation to help arena staff who will be unable to work while the season is indefinitely suspended during the coronavirus pandemic.
The Milwaukee Bucks forward tweeted that he will pledge $100,000 to Fiserv Forum staff.
"It's bigger than basketball!" Antetokounmpo tweeted on Friday afternoon. "And during this tough time I want to help the people that make my life, my family's lives and my teammates lives easier."
After the season was suspended on Wednesday night, the Bucks emailed Fiserv Forum employees and told them that if they were on the schedule for Thursday's game between Milwaukee and Boston, those staff members would still be paid a guaranteed three-hour minimum because the game was canceled less than 24 hours before staff was expected to be at the arena.
The email also said "no one associated with the Arena has tested positive for COVID-19."
On Thursday, Cavaliers forward Kevin Love announced on Instagram that he would be donating $100,000 through the Kevin Love Fund to support Rocket Mortgage Fieldhouse staff in Cleveland.
On Thursday, Love told ESPN's Dave McMenamin, "My hope is that others will step up!"
Ilitch Companies, the group that owns the NHL's Detroit Red Wings and MLB's Detroit Tigers, announced that it set up a $1 million fund to compensate part-time arena and event staff members for one month.
"Our sincere hope is that this provides comfort to our colleagues in this difficult time," Ilitch Companies said in a statement. "When events resume, we look forward to our colleagues being safely back to work as normal."
Harris Blitzer Sports & Entertainment co-managing partners Josh Harris and David Blitzer also said Friday they will pay all New Jersey Devils and Prudential Center part-time event and game-day employees the wages they would have earned for the remainder of the NHL season.
"We realize the suspension of our Devils games and concerts has created an unintended hardship for the men and women who provide for their families and believe our commitment to them in this unprecedented time is imperative," Harris said.
"These are the folks that feel like family every time I step in the arena, so it's natural to show our support," Blitzer added.
ESPN's Eric Woodyard contributed reporting.




Source : ESPN