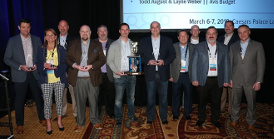 FORT WORTH, Texas – 
In addition to five regional 2017 Auction of the Year winners, GM Financial's nationwide Auction of Excellence program recognized Manheim Detroit as its first Most Valuable Auction of the Year.
Each year, GM Financial reviews the company's 46 auction partners to honor the highest-performing locations. Manheim Detroit's distinction is a new recognition category GM Financial added this year.
"Manheim values the relationship we have with GM Financial, and our team members work hard every day to deliver their best to our clients," Manheim Marketplace senior vice president Patrick Brennan said in a news release. "We are extremely proud of all the winners and congratulate them on this honor."
Manheim Detroit manages the largest volume of GM Financial vehicles, according to the company.
"We rely on our auction partners to support GM Financial's objectives: efficiently manage the increasing volume of vehicles, exceed operation expectations and provide a best-in-class buyer experience," said Brad Bollman, GM Financial senior vice president of remarketing solutions, North American operations. "These six auctions performed exceptionally by serving as an extension of GM Financial, ensuring quality inventory is available to dealers for purchase each week."
The GM Financial Auction of Excellence program evaluates each auction partners' performance in retention, operational metrics and presale activities, as well as overall auction operations.
GM Financial's 2017 Auction of the Year winners at the annual Conference of Auto Remarketing held in Las Vegas. Photo courtesy of company.
The 2017 Regional Auctions of the Year Winners include:
ADESA Kansas City
Manheim Orlando
ADESA Dallas
Manheim Denver
Manheim Pennsylvania
This year's winners were announced at the annual Conference of Auto Remarketing held in Las Vegas last month.
"We have partnered with GM Financial for many years, and we tremendously value our strong, trusted and collaborative relationship," added ADESA chief commercial officer Paul Lips. "Our customers are our highest priority. "So we are honored to be recognized, and we look forward to delivering to GM Financial the next generation of remarketing solutions."


Source : AutoFinanceNews