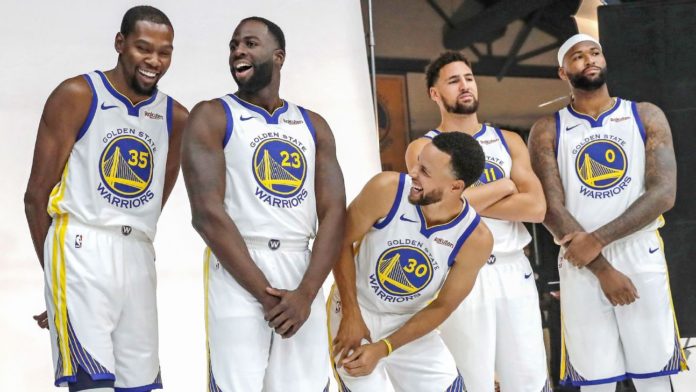 STANFORD, Calif. — Not only do the Golden State Warriors have a chance to win their third NBA championship in a row this season, they also can become the first NBA team in history to land five players on Team USA in advance of this summer's Basketball World Cup in China and the 2020 Summer Olympics in Tokyo.
In the wake of Warriors head coach Steve Kerr being named an assistant coach on Gregg Popovich's Team USA staff, Warriors All-Star and 2016 gold medalist Klay Thompson admitted that the possibility of representing his country alongside Warriors teammates Stephen Curry, Draymond Green, Kevin Durant and DeMarcus Cousins would be special.
"That would be awesome," Thompson told ESPN. "I don't know if that's ever happened in the history of the NBA, so that would be awesome. It gets me excited just thinking about it."
The possibility gained steam Thursday after USA Basketball announced that Kerr would be on Popovich's staff alongside Indiana Pacers head coach Nate McMillan and Villanova head coach Jay Wright. USA Basketball managing director Jerry Colangelo says that all five players have made known their interest in playing for Team USA and will be considered as the team starts to come together over the next few months.
"The first thing we had to determine and we think we have a pretty good feel for this is who's really committed," Colangelo said during a conference call. "Who's really interested in moving forward with us. There are a lot of candidates on the Warriors who have indicated they wish to be part of it. So as we kind of watch this season and this is not the secret sauce, but basically we have to monitor what's happening during the course of the regular season in the NBA as it relates to injuries as it relates to other circumstances that come up before we get down to really inviting the number of individuals that we plan to to come to our camp next summer in preparation for the World Cup."
Colangelo noted that Kerr wasn't chosen so that it would help get players such as Curry and Durant to sign up for another run with USA Basketball, but the relationships the coach has formed with his players can't hurt. Durant won gold medals for Team USA in 2012 and 2016, and Green and Cousins each won one in 2016 as well. Warriors reserve Andre Iguodala won one in 2012. Curry, who has yet to participate in an Olympics, helped Team USA win gold in the 2010 World Championships and the 2014 World Cup.
"I hadn't thought about it to be honest," Curry said of the possibility of having five Warriors starting for Team USA. "I'm worried about these nine months that we got til June. Obviously, if that's the way it shapes out that would be amazing. But a lot of time between now and then so — USAB's done a great job of putting together the right talent. Obviously there's a lot to pick from. [USAB has] the right leadership with coach K and his staff and now coach Popovich and his staff so that's why I've been happy to be a part of that in the World Championship, World Cup situations and hopefully the Olympics in two years. We'll see what happens."
For his part, Thompson is fully committed to trying to win another gold medal in the 2020 Games.
"I would love to," he said. "I had such a great time playing for Team USA. I'm undefeated in my Team USA career. I would love to go back."
Kerr, who was a part of the 1986 Team USA squad that won a World Championships in Madrid, is excited about his upcoming Olympic experience. He tried out for the 1988 team that went to Seoul, but did not make the final cut.
"I'm really, really excited," Kerr said after Thursday's practice. "Especially because it's Pop. But obviously it's an honor no matter who's coaching to represent your country. To be on the staff of the National team is a huge honor. I get the best of both worlds. I get to be on the staff and I get to work with Pop. So I'm really excited about that."
As for the possibility of having all five of his players potential on Team USA at the same time, Kerr wouldn't let his mind wander that far yet.
"We don't know what the team's going to look like exactly," Kerr said. "But I'm hoping that happens. We'll see — I'm a tough critic. We'll see if they make the team or not."
Kerr spoke with a bit of a smile about that last part, the same kind of sense of humor that Curry used when asked about Kerr's presence on the new Team USA staff.
"That decision really ruined my chances of playing," Curry said, sarcastically. "I don't want to see coach [Kerr] more than I have to. Coach Popiovich should have known that before he hired Steve that nobody wants to play for Steve. It's an unfortunate situation."
For Thompson, the idea of being alongside Kerr again during an Olympic cycle sounded great.
"I still got to make the team," Thompson said. "But that would be phenomenal. That would be great. That would be awesome. That would be pretty sweet."
As far as LeBron James potential involvement is concerned, Colangelo noted that James still has an interest in returning to play for Team USA. James played for Team USA in the 2004, 2008 and 2012 Games and hasn't shut the door on one more run with the National team.
"LeBron, he did the workout for the day and a half that we worked out last summer," Colangelo said. "Which was more of a get together, just to get a read on players who — who was in, who was thinking maybe, maybe not [playing]. LeBron did show; to me that's an indication he has interest in playing. But the season, the season takes its toll on players. And as players age, it takes a little bit more toll. So we monitor, we'll stay in touch. We'll see how things [come together] and each player's going to make their own individual decisions on whether or not they want to commit and participate and we'll [move forward]."


Source : ESPN