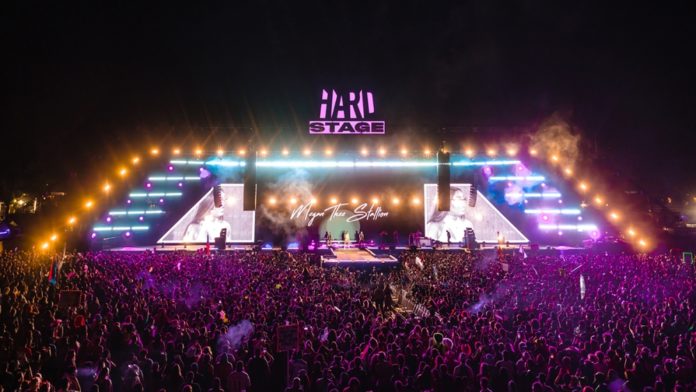 For the first time in 10 years, Hard Summer Music Festival is coming home to Los Angeles.
The 15th installment of the dance-focused festival, scheduled for Aug. 5-6, will position Hard Summer's to-be-announced acts across stages at the Los Angeles Memorial Coliseum, Exposition Park and BMO Stadium. This is the first time that all three venues will be used simultaneously for a live event, increasing the sense of novelty that surrounds Hard Summer's return to downtown L.A. while catering to diverse tastes within the dance space.
While the Coliseum will welcome booming sets from bass mavens, BMO Stadium will host marquee main stage artists at the Hard Stage, with live performances to take place at the Purple Stage. Meanwhile, at Exposition Park, house and techno figureheads can be found at the Pink Stage and multi-genre talents at the Harder Stage.
Notably, Hard Summer's 2023 iteration coincides with the Coliseum's centennial anniversary celebration. "As home to the most iconic events in the world, this festival is an exciting addition to our 100-year history," said the venue's general manager, Joe Furin.
The news extends Hard Summer's history of venue changes. The festival has been held in various places across California since it debuted in 2008, including the Shrine Exposition Hall, The Forum, L.A. State Historic Park, Whittier Narrows Recreation Area, the Fairplex, Fontana Auto Club Speedway, the Glen Helen Amphitheater, and most recently, the NOS Event Center.
Hard Summer's 2023 lineup and details on official afterparties are forthcoming. Two-day passes to this year's event will be available for purchase on Feb. 3 at 10 a.m. PT.




Source : Variety