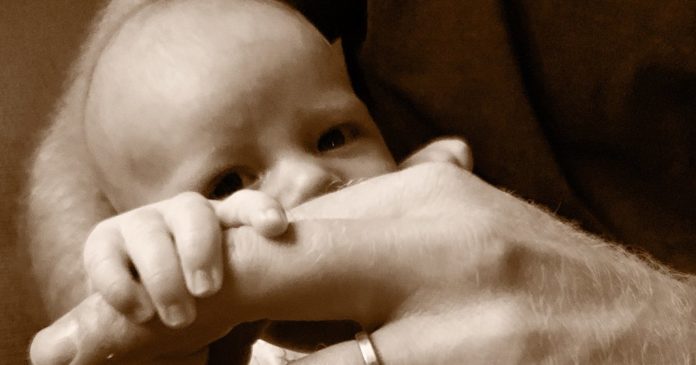 LONDON — The first time Archie Harrison Mountbatten-Windsor was introduced to the world in Windsor, a mere two days after he was born in May, he slept through the meet-and-greet with selected reporters and flashing cameras.
He wore a knit cap then, and his face was barely visible in the arms of his excited father, Prince Harry, a.k.a. the Duke of Sussex. His mother, Meghan, Duchess of Sussex, stood by them, smiling nonstop.
The second time, in a post on Instagram, we saw only his feet peeking out from a cream blanket.
On Sunday, as Britain and other countries celebrated Father's Day, the British royals unveiled Archie again — at least part of him — on Instagram in all his bald, bright-eyed glory.
The black-and white image shows him staring intently at the camera, clutching the finger of a man presumed to be Harry. And, to be fair, his tiny head bore signs of a fuzz.
By Sunday evening, the image had racked up more than 1.5 million "likes." The reaction was predictably rapturous — "Beautiful" was a popular sentiment — but some commentators wanted more.
Perhaps eager to deduce if Archie is a ginger like his father, one person wrote: "Why won't they show his hair color?! I'm dying over here!"
After giving birth to their first child, the duchess had mostly kept out of the public eye, choosing to be absent from functions like President Trump's controversial state visit to Britain this month.
But days later, she appeared at trooping the color, an annual parade that has marked the official birthday of the British sovereign for more than 260 years. (Queen Elizabeth II's 93rd birthday actually fell in April.)
The queen met her eighth grandchild — who is seventh in line to the throne — at Windsor soon after his birth; the occasion was again revealed on social media, and only a sliver of Archie's cheek was visible in the photo. Prince Philip and the duchess's mother, Doria Ragland, were also present.
Since becoming a couple, the Duke and Duchess of Sussex have upended certain traditions, including tossing out the traditional photo opportunity to showcase the newest royal in favor of choosing carefully curated images online — rankling most of the British press.
Now, as if in answer to an unspoken national plea to "Show us your baby!" the couple obliged.
But they appear determined to do it in tiny bits, perhaps out of privacy concerns. For the duchess's first Mother's Day, the couple unfurled a photo of Archie's feet, with the hand of a woman presumed to be the duchess cupping them.
Quoting the writer Nayyirah Waheed, the post read:
"My mother was my first country; the first place I ever lived."




Source : Nytimes